Superbrands Greece honors country's leading brands at the Business Superbrands Greece 2021-2022 Tribute Ceremony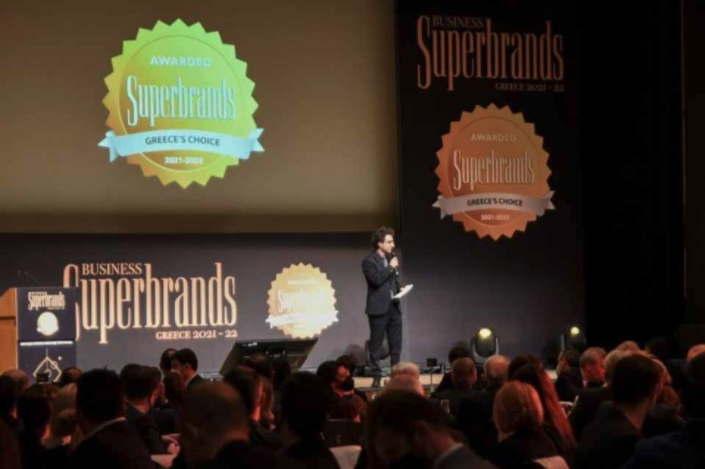 Superbrands Greece has honoured the country's leading brands at the Business Superbrands Greece 2021-2022 Tribute Ceremony held on Wednesday 1 December 2021.
The ceremony was held at the Athens Concert Hall and was attended by many of the country's leading representatives in the business community. Attendees all had the chance to exchange views on current market conditions at the cocktail event which followed the award ceremony.
The ceremony was presented by actor and standup comedian, Lambros Fisfis, who put his humorous stamp on the event, taking inspiration from art and COVID-19.
Prizes were first awarded to the top corporate brands and then to the brands that received the highest score per category (listed below in alphabetical order).
ADVERTISING – PUBLIC RELATIONS AGENCIES
BBDO
FRANK AND FAME
JNL LEOUSSIS
MC CANN ERICKSON
MULLEN/LOWE ATHENS
OGILVY GREECE
ONE TEAM
ALCOHOLIC DRINKS
ATHENIAN BREWERY
BARBAYANNIS J.
BOUTARIS
DIAGEO HELLAS
DOMAINES HATZIMICHALIS
HELLENIC BREWERIES OF ATALANTI
KAROULIAS
AUTO – MOTO
BMW HELLAS
ELASTRAK- BRIDGESTONE
FCA GREECE SSA
MERCEDES-BENZ HELLAS
SARACAKIS GROUP OF COMPANIES
TOYOTA HELLAS
VOLVO CAR HELLAS
CLOTHES & SHOES
BERTOLUCCI
LAPIN HOUSE
MOUYER
NAK SHOES
OXFORD COMPANY
TOI & MOI
TSAKIRIS – MALLAS
CONSTRUCTION MATERIALS
ALUMIL
ALUMINCO
BERLING
EUROPA PROFIL ALUMINIUM
KNAUF
SCHNEIDER ELECTRIC
TITAN CEMENT
CONSTRUCTION-REAL ESTATE DEVELOPMENT
GEK TERNA
INTRAKAT
LAMDA DEVELOPMENT
NOVA CONSTRUCTIONS – GREEN PROPERTIES
OLYMPIA ODOS
OTIS HELLAS
PISCINES IDEALES
CONSULTING SERVICES-SERVICES TO COMPANIES
ACCENTURE
BSS
DELOITTE BUSINESS SOLUTIONS
ERNST & YOUNG
GRANT THORNTON
ICAP S.A
KPMG
COOKING  ADDITIVES & CONFECTIONARY
CHIPITA
ION
JOTIS
KARAMOLEGOS
KARDASSIS
MONDELEZ
PAPADOPOULOS E.J.
DAIRY PRODUCTS
DELTA DAIRY – VIVARTIA
DODONI S.A.
FAGE DAIRY
HELLENIC DAIRIES
JOTIS S.A.
MEVGAL
OPTIMA (EPIRUS)
DEPARTMENTS STORES – MALLS
DIXONS SOUTH – EAST EUROPE
HONDOS CENTER
IKEA – HOUSE MARKET
INTERSPORT ATHLETICS
LAMDA DEVELOPMENT
PLAISIO COMPUTERS
PUBLIC MEDIA MARKT (PMM)
DIGITAL SERVICES
CARDLINK
EVENTORA
GENERATION Y
MOOSEND
PAPAKI
VIVA GROUP
E-COMMERCE
2Happy.gr
Beat
Online Delivery (e-food.gr)
pharmacy2go.gr
skroutz.gr
sugarfree.gr
ELECTRICAL APPLIANCES – ELECTRONICS-LIGHTING
BSH HELLAS
KAFKAS
MIELE HELLAS
PHILIPS HELLAS
SAMSUNG ELECTRONICS HELLAS
SIGNIFY HELLAS
SONY EUROPE B.V. (SONY HELLAS)
ENERGY – RECYCLING
EKO
ELPEDISON
EYDAP
HELLENIC PETROLEUM GROUP
HERON GROUP
MOTOR OIL HELLAS
PUBLIC POWER CORPORATION
ENTERTAINMENT  – CULTURE
EKALI CLUB
HELLENIC COSMOS CULTURAL CENTRE
MEGARON-THE ATHENS CONCERT HALL
MEGARON-THESSALONIKI CONCERT HALL
ONASSIS STEGI
STAVROS NIARCHOS FOUNDATION CULTURAL CENTER
FINANCIAL SERVICES – BANKS
ALPHA BANK
NATIONAL BANK OF GREECE
PIRAEUS BANK
FOOD PRODUCTS
BARBA STATHIS
BARILLA HELLAS
FARMΑ MITSOPOULOS
IFANTIS
KYKNOS GREEK CANNING COMPANY
MELISSA KIKIZAS
NESTLE HELLAS
FOOD SERVICES
DELTA – VIVARTIA
EVEREST
FRIDAY'S GROUP OF COMPANIES
GREGORY'S
KASTELORIZO GROUP
VENETIS
VS GROUP
FURNITURE
CANDIA STROM
COCO – MAT
ELITE STROM
GRUPPO CUCINE
IDEAL STROM
MEDIA STROM
SATO
HOUSE CLEANING
3M HELLAS
COLGATE – PALMOLIVE HELLAS
ELAIS – UNILEVER HELLAS
EURECA HELLAS
EUROCHARTIKI
INTERTRADE HELLAS
SC JOHNSON HELLAS
HOUSE EQUIPMENT
IDEAL STANDARD
LAKIOTIS
LEROY MERLIN
MODA BAGNO
PRAKTIKER
RAVENNA
THERMOVENT HELLAS
INSURANCE SERVICES
ETHNIKI INSURANCE
EUROP ASSISTANCE
EUROPEAN RELIANCE
GROUPAMA PHOENIX
INTERAMERICAN
METLIFE
NN HELLAS
JEWELRY  – WATCHES – OPTICS
ELEGANT
LALAOUNIS GREEK GOLD
ORO e ORA
ROLEX HELLAS
SWATCH GROUP GREECE
ZOLOTAS
MARKET RESEARCH
ALCO
IPSOS – OPINION
KAPA RESEARCH
MARC
METRON ANALYSIS
MRB HELLAS
THE NIELSEN COMPANY GREECE
MASS MEDIA
24 MEDIA
ANTENNA GROUP
DPG DIGITAL MEDIA
FORWARD MEDIA (FORTUNE GREECE)
KATHIMERINES EKDOSEIS
SKAI RADIO & TV
STAR CHANNEL (NEA TILEORASI)
MEDICAL & DIAGNOSTIC INSTITUTIONS
AGIOS SAVVAS HOSPITAL
AGLAIA KYRIAKOU CHILDRENS HOSPITAL
ATHENS MEDICAL GROUP
EUROCLINIC GROUP
HYGEIA
IASO SA
ONASSIS CARDIAC SURGERY CENTER
NON ALCOHOLIC DRINKS-BEVERAGES
CHIOS GARDENS
CHITOS (ZAGORI WATER)
GREEN COLA COMPANY
JACOBS DOUWE EGBERTS
JOTIS
LOUX
SOUROTI MINERAL WATER
NON PROFIT ORGANIZATIONS
ARK OF THE WORLD
CHATZIKIRIAKEIO FOUNDATION OF CHILD PROTECTION
ELPIDA
FLOGA
SOS CHILDREN'S VILLAGES GREECE
THE SMILE OF THE CHILD
WE4ALL
PERSONAL CARE
FREZYDERM
JOHNSON & JOHNSON HELLAS
KORRES NATURAL PRODUCTS
L'OREAL HELLAS
MEGA DISPOSABLES
PAPOUTSANIS
SEPTONA
PHARMACEUTICALS
BAYER HELLAS
BRISTOL – MYERS SQUIBB
GLAXOSMITHKLINE
ISOPLUS-SOLGAR
NOVARTIS HELLAS
PFIZER HELLAS
VIANEX
PUBLICATIONS
DIOPTRA PUBLICATIONS
KASTANIOTIS PUBLICATIONS
LIVANI PUBLISHING
METAIXMIO PUBLICATIONS
PATAKIS PUBLISHERS
PSICHOGIOS PUBLICATIONS
SAVVALAS PUBLICATIONS
SMOKING -TOBACCO
IMPERIAL TOBACCO HELLAS
KARELIA TOBACCO COMPANY
PAPASTRATOS-PHILIP MORRIS INTERNATIONAL
STARTUPS
ContactPigeon
Douleutaras.gr
E-food.gr
Ex Machina
Nannuka
ParkAround B.V
Welcome Pickups
SUPERMARKETS
362 GROCERY
AB VASSILOPOULOS
CHALKIADAKIS
KRITIKOS
MASOUTIS
METRO
SKLAVENITIS
TECHNOLOGY
ALGOSYSTEMS Α.Ε.
GOOGLE HELLAS
ISQUARE
MICROSOFT HELLAS
ORACLE HELLAS
SOFT ONE TECHNOLOGIES
SPACE HELLAS
TELECOMMUNICATIONS
M-STAT
OTE GROUP-COSMOTE
VODAFONE – PANAFON
TOURISM
ALDEMAR RESORTS GROUP
ATHENAEUM INTERCONTINENTAL ATHENS HOTEL
HELIOS HOTELS AND RESORTS
IONIAN HOTELS (ATHENS HILTON)
LAMDA FLISVOS MARINA
LAMPSA
TRANSPORTATION
AEGEAN AIRLINES
ATHENS INTERNATIONAL AIRPORT
ATTIKES DIADROMES
DHL EXPRESS HELLAS
GOLDAIR GROUP
MINOAN LINES
ORPHEE BEINOGLOU
The glamorous night culminated in the awarding of special prizes. This year's special awards were given to Google Hellas as the company with the best international corporate name, while the Stavros Niarchos Foundation Cultural Center was honoured with the "Golden Victory" as the corporate name that collected the highest score, regardless of category.