As UK Prepares for Reopening, Advertising Spend Looks Set to Soar – ADWEEK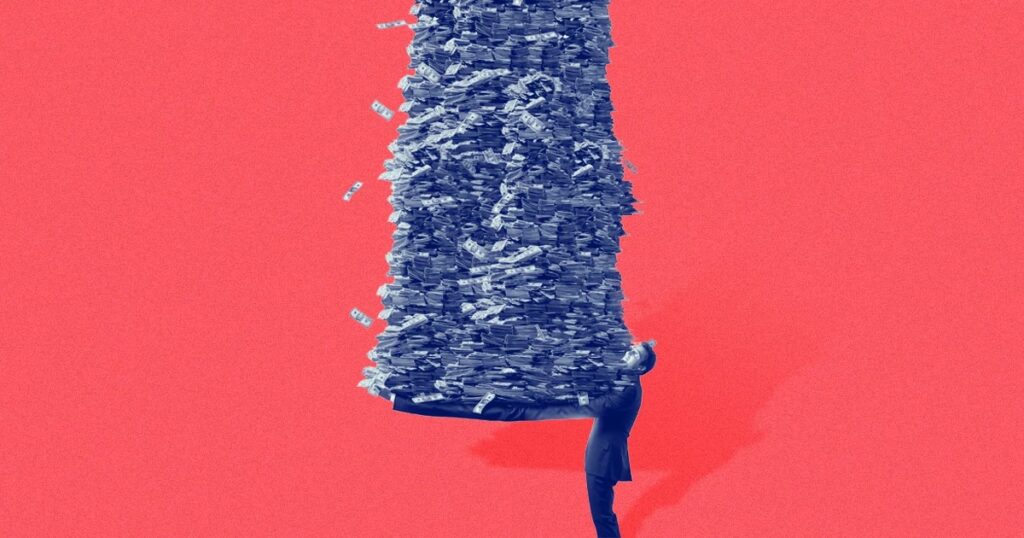 The U.K. is poised to see a boom in ad spending as the country prepares to ease its remaining Covid-19 restrictions next week, the latest industry report predicts. 
In the second quarter of 2021, total U.K. marketing budgets expanded for the first time since the fourth quarter of 2019, according to the IPA Bellwether Report. It brings an end to five consecutive quarters of cuts to overall marketing spend. 
A net balance of +6% of the companies surveyed expanded their marketing budgets, with 21.2% registering growth and 15.2% reporting a decline. As well as being the first quarter of expansion since Q4 2019, it was the sharpest increase since the beginning of 2019. It is also an improvement from the first quarter of this year, when a net balance of -11.5% of companies recorded spending cuts. 
UK firms optimistic
These results signal that many businesses are expecting a strong recovery after the U.K.'s economy was battered by the pandemic. The Bellwether Report predicts ad spend growth of 7.5% this year, followed by growth of 6% in 2022.
Three specific categories of marketing spend saw expansions. They were public relations, which had a net balance of +1.8% of growth in expenditure; main media, with a net balance of +1.3% of businesses increasing budgets; and direct marketing, which recorded a +0.7% uptick in budgets. Within main media, video, audio and other online advertising grew, while published brands and out-of-home budgets declined. Sales promotions and market research budgets were also cut.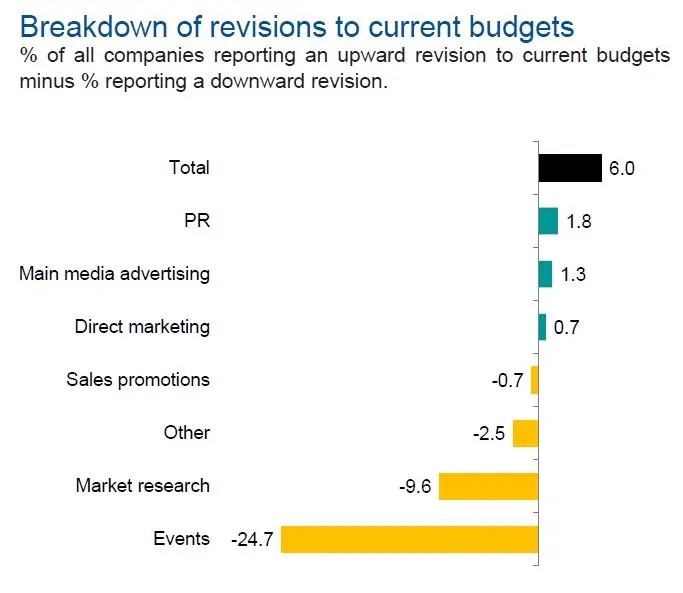 Like the first quarter of 2021, numerous Bellwether panel members expressed optimism about their company and industry prospects.
In the survey, +45.9% of members were more optimistic regarding their company's financial prospects compared to three months ago, and +11.4% were pessimistic, resulting in a net balance of +34.6% who indicated a strong level of confidence. While this net balance was lower than Q1 2021 (+36.6%), it was the second-highest figure since the first quarter of 2015.
Meanwhile, a net balance of +21.1% of surveyed companies were more bullish about the broader industry's prospects compared to three months ago.
The respondents attributed their optimism to the U.K.'s successful vaccination program, the re-opening of the economy and the further relaxation of rules next week. Some anticipate that increased savings during the three lockdowns will also fuel a recovery in household spending.
But Covid concerns remain
However, some of those surveyed remained cautious due to the possibility of new Covid-19 variants undermining vaccine effectiveness and further job losses once the U.K.'s furlough scheme ends.
"These positive results mark the end of five quarters of continuous cuts," Paul Bainsfair, director general of the IPA, said in a statement. "For revisions to U.K. marketing budgets to bounce back so quickly and strongly, following their nadir at the height of Covid-19 restrictions in Q2 2020, is very welcome news and corroborates our Bellwether prediction for a V-shaped recovery.
"As the vaccination rollout continues at pace and UK plc gears itself up for growth, we encourage companies to ramp up their advertising to make the most of post-lockdown, pent-up consumer demand."
Q2 ad spend demonstrates 'strongest rise in a decade'
The growth in U.K. advertising spend mirrors what's happening globally. Global ad spend is expected to grow by 12.6% this year and reach $665bn, an upgrade from the 6.7% increase initially projected, according to the latest report from WARC.
In a survey of 100 markets, WARC found that ad spend in Q2 2021 rose by 23.6% to $157.6bn—the strongest rise in over a decade. Growth in the second quarter was driven mostly by online formats, which saw spend rise by 31.2% compared with the previous year.
Ecommerce grew by 59.5% and search by 50.6%, while some offline media did well—most notably linear TV—which was up by 11.5%.
WARC also forecasts overall growth of 8.2% in 2022, when the global advertising market will be worth more than $700bn.
This article was originally published on ADWEEK. You can view the original article here.