Bed Bath & Beyond files for bankruptcy in the US – BBC
SOURCE:

Annabelle Liang | BBC

Embattled retail giant Bed Bath & Beyond has filed for Chapter 11 bankruptcy protection in US.

The company says it will "implement an orderly wind down of its business", including its Buy Buy Baby brand, and close all 475 of its remaining stores by the end of June.

It added that it was seeking buyers for some or all of its assets.

The chain, which has faced financial troubles for years, recently said it would cut jobs and close 150 stores.

Last month, the company announced that it would sell $300m (£241.1m) worth of its shares, and warned that it might have to file for bankruptcy if the funds were not secured.

The once-popular destination for household goods has struggled to keep up with the rise of online shopping.

Chapter 11 protection postpones a US company's obligations to its creditors, giving it time to reorganise its debts or sell parts of the business.

In a filing to the United States Bankruptcy Court for the District of New Jersey on Sunday, the retailer said "the past twelve months have undoubtedly been the most difficult and turbulent in Bed Bath & Beyond's storied history."

It added that despite "painstaking, creative, and exhaustive efforts to right the ship along the way, Bed Bath & Beyond is simply unable to service its funded debt obligations while simultaneously supplying sufficient inventory to its store locations."

Notices on the Bed Bath & Beyond and Buy Buy Baby websites said the stores "remain open to serve you", without offering a timeline for when services will cease.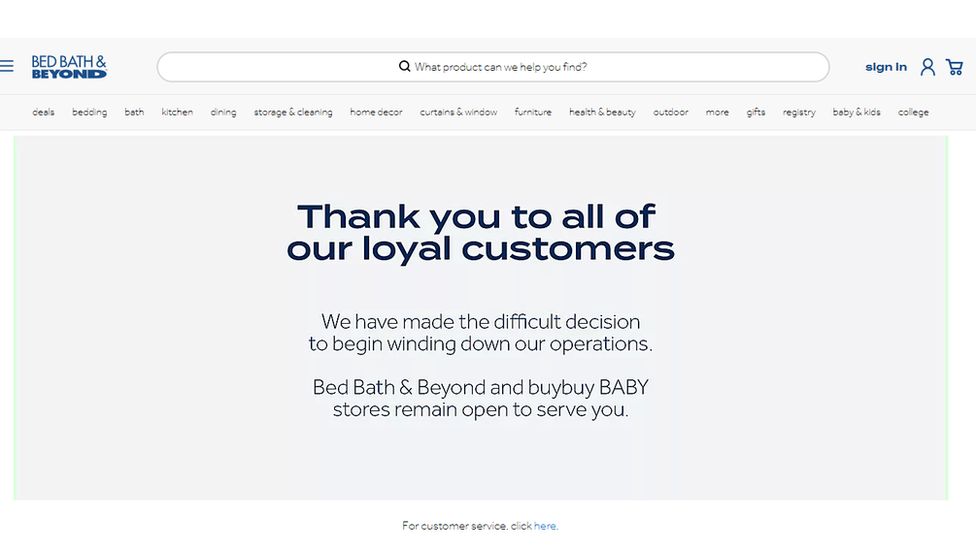 "Millions of customers have trusted us through the most important milestones in their lives – from going to college to getting married, settling into a new home to having a baby," Bed Bath & Beyond president and chief executive Sue Gove said in a statement.
The company also said it had secured $240m in financing from the Texas-based Sixth Street Specialty Lending to support its winding down process.
Bed Bath & Beyond was founded in 1971 as Bed 'n Bath, in a nod to the narrow range of merchandise it originally sold. Over the years the company hugely expanded the goods it had on offer to include everything from bed linen to electric appliances.
At its peak in the 2010s, Bed Bath & Beyond was the largest home furnishing retailer in the US, with more than 970 stores across all 50 states.
However, in recent years it has struggled with dwindling profits as more customers chose to shop online.
Earlier this year, the company said that it had secured more than $500m in new financing, but added that it would close 150 stores and cut jobs in an attempt to turn the business around.
This article was originally published on BBC. You can view the original article here.