Brand Equity – History Matters – Forbes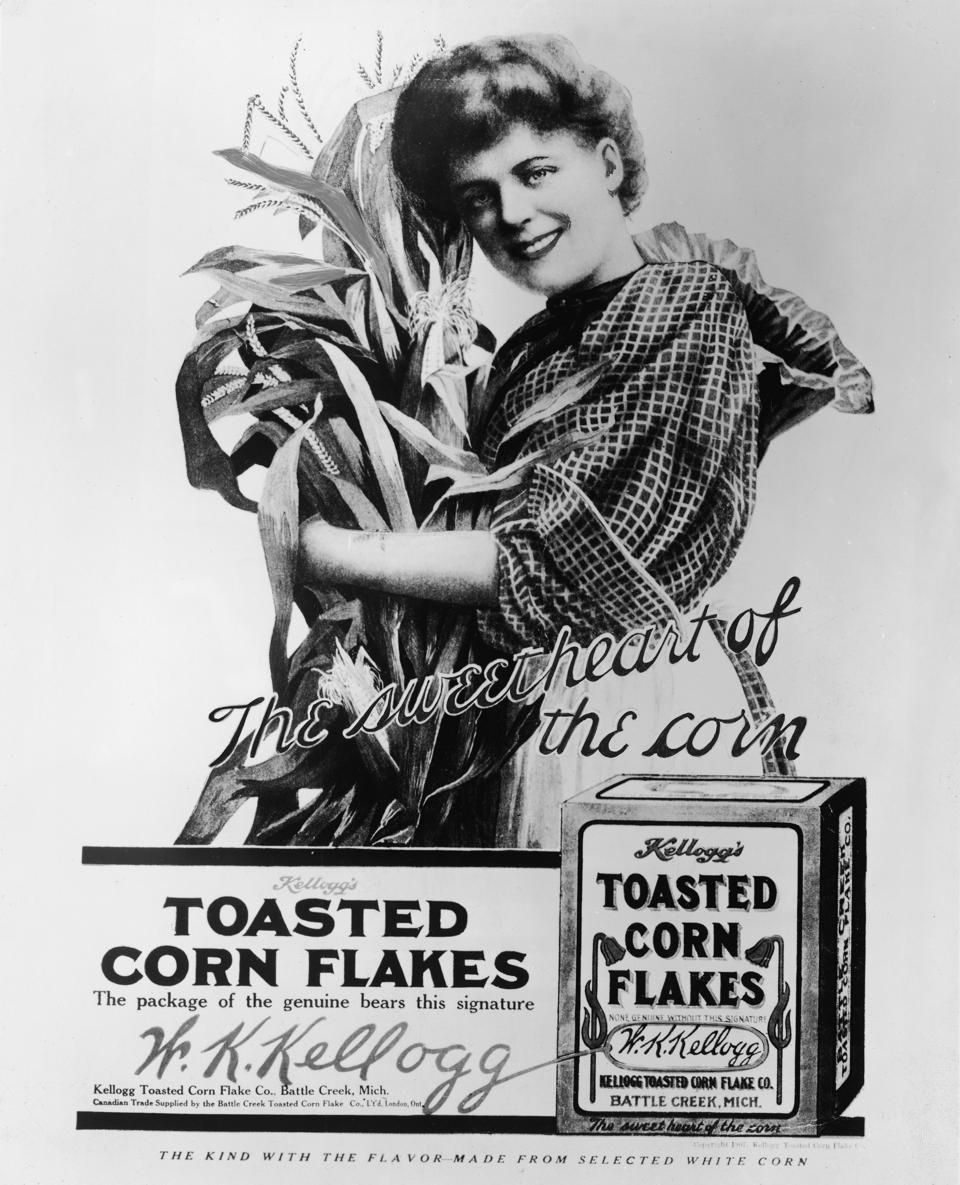 Every brand has equities that are widely associated with the brand and resonate with consumers, that invite the consumer to participate with the brand, to engage and entangle with the brand and that drive purchasing behavior. Brand equity is difficult to define and challenging to measure. It's about consumers' awareness of brand features, what makes brands memorable, recognizable and reliable. It's about the consumer's perception of a brand and the resulting value placed on the brand. Brand equity is created over a period of time. The brands that have the strongest staying power have equities that have withstood the test of time. Any strong brand can be described with four to six words (or phrases), words that are commonly associated with the brand and come to mind quickly and obviously. Coca-Cola, for example: Soda beverage. Brown and fizzy. Thirst quenching. Cans and bottles. Red and white brand colors. Ubiquitous. It's also associated with sports, music and fun moments. And the same can be said of Oreo, Google, Apple, Levi's and so many other great brands.
But strong equities, with staying power, don't emerge overnight. Frequently, the equities of the brand are embedded in the founder's vision.  A brand's history matters and often offers a valuable insight into the brand today. What I find remarkable is how many 100-year old (or older), iconic brands, (i.e., brands with staying power) are delivering the same (or close to the same) message crafted by their entrepreneurial founders, albeit modernized. A look back at a brand's history can be a great help, providing invaluable clues about a brand's DNA. The more we understand brands on this molecular level — the brand's equities — the better able we are to engage in successful marketing in ways that feel organic and genuine to consumers and the marketplace.
While one can easily look at the vision of founders of brands in the modern era such as Apple (Steve Jobs), Amazon (Jeff Bezos), Tesla (Elon Musk), Starbucks (Howard Schultz) and Microsoft (Bill Gates), among many others, we really don't know if the vision of these founders will stand the test of time. I am far more intrigued by the vision of the founders of brands that are over 100 years old and how, incredibly, amidst so much change occurring in marketing; consumer behavior; product and service needs; economic, political and cultural volatility and disruption; even wars, those visions have survived right up to today. And those timeless visions were articulated without any market research, focus groups, competitive landscaping, or consumer permission studies. They were articulated based on experience, from the heart, and from a keen entrepreneurial spirit. Following below I examine five illustrative brands: Coca-Cola, Kellogg's, L.L.Bean, UPS, and Carhartt, but there are many more.
Coca-Cola
The story of brand Coca-Cola is what initially got me thinking about the importance of brand history. One can trace the origin of several of the brand's equities, aggressively marketed today, to its early beginnings. Dr. John Pemberton, a pharmacist and inventor of proprietary medicines and beverages, introduced his invention, Coca-Cola, in the Spring of 1886. His concoction, a caramel-colored syrup stirred in a brass kettle, contained ingredients from the coca leaf and the kola nut, thus the name of the beverage. Pemberton's first sales were at Jacob's Pharmacy in Atlanta, Georgia. He claimed, as was the custom of the time, that his carbonated beverage (five cents a glass at the soda fountain) cured a list of ailments.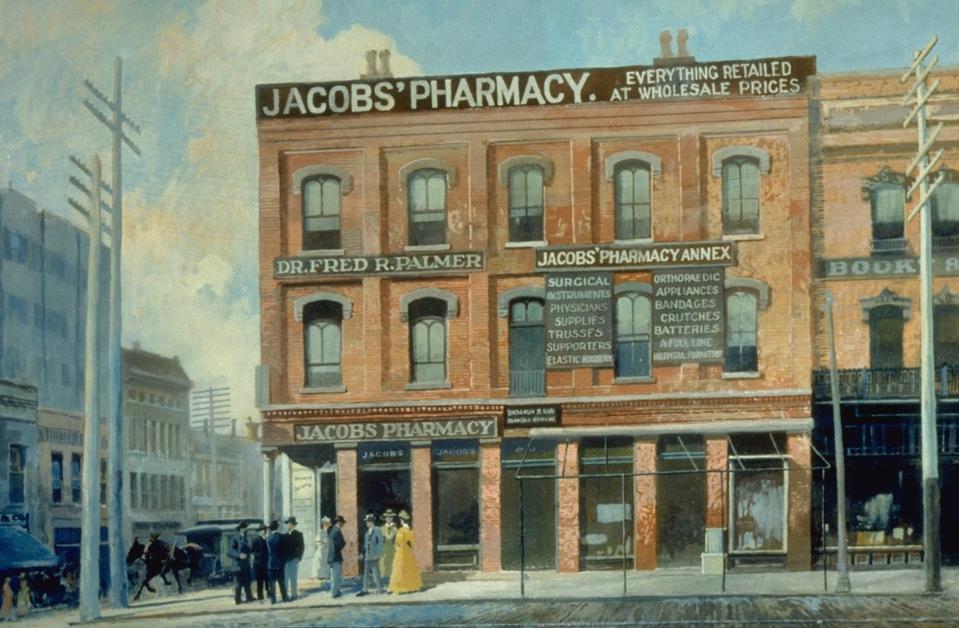 The first business to sell Coca-Cola was at the soda fountain in Jacob's Pharmacy, 1886,
in Atlanta, Georgia. Photo by John van Hasselt/Sygma via Getty Images.
Pemberton died in 1888 and the company was purchased by a local businessman, Asa Candler, for $2,300. Although not the "inventor/founder," Candler is, in my opinion, the founder of modern-day Coca-Cola. Asa Candler, in those first few years of The Coca-Cola Company, recognized that to succeed with a low-cost beverage required high sales. He wanted to make the drink available everywhere and aggressively used then-popular forms of marketing to motivate purchase as often and in as many occasions as possible. And those remain goals of the Company today. Candler used non-beverage products such as calendars, glasses, clocks, wallets, pocket knives, postcards, and others, all proclaiming the qualities of the beverage, given away for free at soda fountains to promote the drink. Advertising depicted people drinking the beverage in all walks of life — at social, sporting, and music events with words such as "Delicious and Refreshing" and "Drink Coca-Cola." Candler wanted the beverage to be ubiquitous and thought of as more than a drink, but rather, as a lifestyle. That messaging, those equities, pursued by Asa Candler in the early days of The Coca-Cola Company, remain two of the most important equities of the brand today. And the history of Coca-Cola reveals a brand that has relied on ubiquity and recognition, a brand that was always presented as more than just a drink, but a lifestyle, decade after decade from the days of Asa Candler right up to today.
Kellogg's.
In the mid-1800s, the American breakfast was really not much different than lunch or dinner. Meat, potatoes, bread, chicken, pie and cake. In fact, most Americans ate leftovers from last night's dinner for breakfast. This was not a particularly healthy way to begin the day. Indigestion (and ailments associated with it) was rampant. Dr. John Harvey Kellogg was, to put it mildly, an interesting man. A medical doctor and deeply religious, he believed that the health of Americans could be improved by diet, which would also cure people of various sins. Dr. Kellogg named his theory "biologic living," a cure for the body, mind and soul.
In 1876, Dr. Kellogg was tapped by the founders of the Seventh Day Adventist Church to run the Battle Creek Sanitarium in Battle Creek, Michigan (at the time, Battle Creek was the home of the Church), a mixture of hospital, health spa and resort. His brother, W.K. Kellogg ("Will") worked for him and ran the business side of things. The brothers set to work to improve the diet of the Sanitarium's patients and guests. They experimented in the Sanitarium's basement kitchen and were testing a recipe to develop wheat into granola when they accidentally created a flaked wheat product. Breakfast cereal was born. They soon learned that it was more tasteful if they used corn. The two brothers revolutionized the American breakfast, as a distinct meal, with a healthier alternative, corn flakes.
Soon their new product was being ordered from customers outside the Sanitarium and they were producing as much as they could to service the demand. It was considered a health food as well as convenient at a time that America was industrializing. Based on the success of their corn flakes, cereal companies began popping up all over America, including over 100 in Battle Creek (a former patient of Dr. Kellogg, C.W. Post, started a company that made Grape Nuts). Will wanted to expand, believing that there was a much wider base of customers for a healthy and nutritious breakfast that tasted good. But Dr. Kellogg was more interested in the cause, biologic living, than profits. The brothers had a falling out and, having convinced his brother to give up rights to the product, W.K. Kellogg, in 1906 established the Battle Creek Toasted Corn Flake Company, re-named the Kellogg's Toasted Corn Flake Company in 1909.
Today, Kellogg's is a $13.5 Billion international food company, and is still based in Battle Creek, Michigan. The company's Purpose Statement is: "Nourishing families so they can flourish and thrive." One can draw a direct line from the combined vision of the founder, W.K. Kellogg, and his brother, Dr. John Harvey Kellogg. The timeless equities — healthy, nourishing and good tasting — remain equities of the Kellogg's brand today.
L.L.Bean.
In 1911, an avid hunter and fisherman named Leon Leonwood Bean returned from a hunting trip with cold, damp feet and a revolutionary idea. He asked a local cobbler to stitch supple leather uppers to waterproof rubber boots, creating a comfortable, functional boot for exploring the Maine woods. This ingenious invention — the Maine Hunting Shoe — changed outdoor footwear forever and a year later began one of the most successful family-run businesses in the country.
In hopes of selling his newly created boot, L.L., as he was called, obtained a list of nonresident Maine hunting license holders and created a descriptive flyer that he would send through the mail. Selling out of his brother's basement in Freeport, Maine (where the company is still headquartered), Bean used his four-page mail-order catalog to launch a nationwide mail-order business. In the flyer, he guaranteed that the boots would "give perfect satisfaction in every way." The L.L.Bean satisfaction guarantee was born. Due to a design flaw, 90% of the original production run was returned, but L.L. made good on his money-back guarantee, corrected the design and pushed ahead with his business. It was at that time that he established the company's Golden Rule: "Selling good merchandise at a reasonable profit; treating your customer like human beings, and they will always come back for more". Customer service.
Today, L.L.Bean is a multichannel retailer that controls all of its distribution and sales to consumers through a direct mail-order business fueled by its catalogs, an e-commerce business and company-owned retail stores. The company remains a privately held family business with sales well over one billion dollars. The L.L.Bean brand story has evolved over time as the company has grown, offering consumers many additional products geared to the lives of outdoor-oriented people and those who live an outdoor lifestyle. But the imperative has always been moving ahead with the times and growth while remaining faithful to traditional L.L.Bean core values and maintaining the brand character.
The values of reliability and service have been among the core equities of L.L.Bean since those early days over 100 years ago. And not surprisingly, the two defining equities that represent the unique character of the company and its way of doing business can be traced to its founder. First, Customer Service (for which it is frequently recognized) — L.L.Bean has always been proud to be close to its customer and strives to be "the best, most consistent and most caring customer relations company anywhere." And, second, the 100% Satisfaction Guarantee — you can return a product within a year of purchase for any reason, no questions asked. "You have our word." The founder's vision.
UPS
Jim Casey was 19 years old when, on August 28, 1907, he and a friend borrowed $100 and established the American Messenger Company in the basement of a Seattle saloon. With two telephones, two bicycles and six boys, they delivered packages, telegraph and other messages throughout Seattle. In 1909, it was a competitive business in Seattle (the gateway to Asia), but the partners offered the lowest rates, 24/7 service and were truthful about when a package or message could be picked up. Casey was among the first to contract with local department stores to deliver customer orders with several retailers abandoning their own fleet of delivery trucks. Under Jim Casey's leadership the color brown, inspired by the color of Pullman sleeping cars, was adopted in the 1920s for trucks and uniforms. Through several mergers and acquisitions, as the company grew, the name was changed to United Parcel Service in 1925. In 2019, UPS had revenues of $74 billion, delivered over 5.5 billion packages in 220 countries and territories with just under 500,000 employees.
The visionary legacy of Jim Casey is characterized by logistics, service, and company culture. The company became an engine of logistics with innovative parcel sorting systems and driver scheduling and routing. Casey ran the company like the military, and today UPS is one of the most disciplined organizations in the world. Jim believed in promoting employees from within and today many senior executives started as drivers or package sorters. Casey also offered shares of stock to employees at discounted prices and generous terms. Today a large amount of stock is owned by the heirs of the founders and employees. Jim Casey supported the unions, offered very generous compensation and benefit packages to employees, creating a corporate culture years before anyone even used the term.
The stated values, mission and strategy of UPS today are direct descendants of those established by its founder, Jim Casey — integrity, teamwork, customer service, efficiency, logistics, broad employee ownership, opportunities for employee development and quick to adapt to the changing needs of customers.
Carhartt
President Barack Obama wore Carhartt when he visited Alaska in 2015, Rick Perry wore the brand talking about American values in a 2012 TV ad, and Sarah Palin sported Carhartt when she was running for Vice President. These politicians (and musicians, celebrities, skate boarders and hip hop artists, among others) know that the Carhartt brand is synonymous with the heart and soul of blue collar America and has since its beginnings been a favorite of the working class — those who work on the land, in construction or in office towers. The brand cuts across politics and demographics in our polarized world as an "All American" brand. Carhartt's equities favored by Americans with working class values — durable, long-lasting, rugged, work-wear and made-in-America — can be traced to the vision of the founder, Hamilton Carhartt.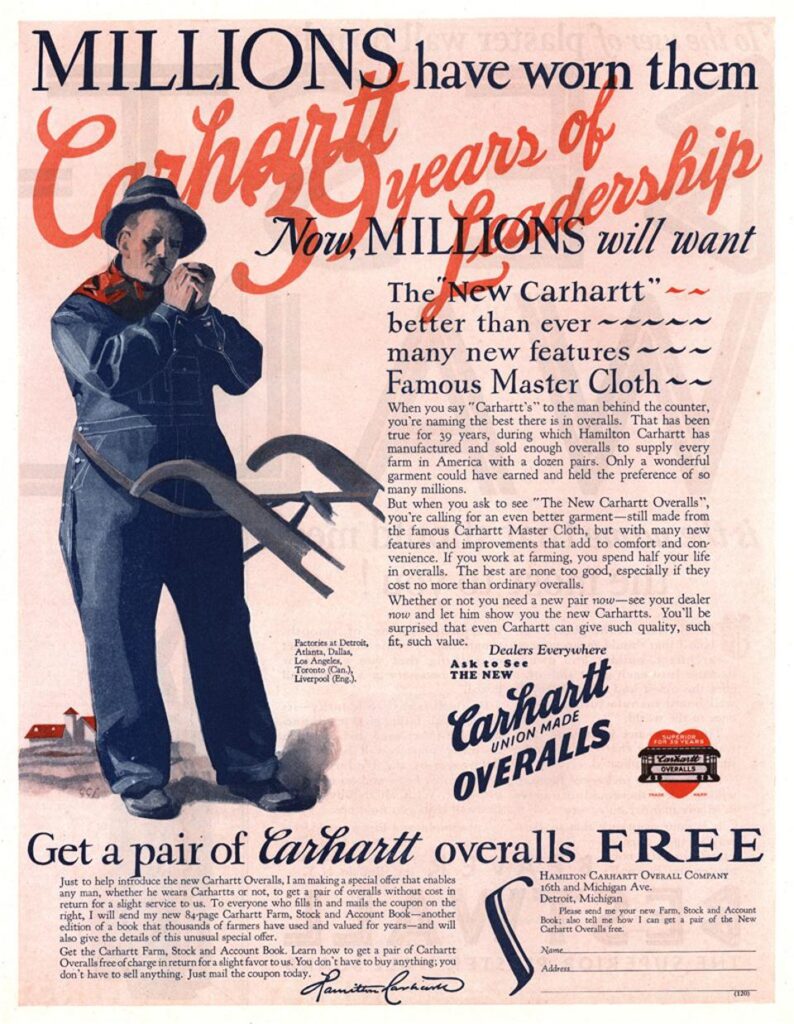 Vintage Carhartt Overalls Ad. Photo by Flickr.
In 1889, with the Industrial Revolution raging and railroads being built across the country, Hamilton Carhartt started his clothing company, Hamilton Carhartt & Co., in Dearborn, Michigan (where it is still headquartered today). He had two sewing machines, a half-power electric motor and five employees in the loft of a building. His first attempt was a failure so he engaged in some "market research" and talked directly to railroad workers in order to design a product that fit their needs. The Carhartt bib overall was created and remains a centerpiece of the Carhartt line. The company's motto then (and now) was "Honest value for an honest dollar," in other words, the honest wages that his customers earned could purchase Carhartt clothing at a fair price. Values by which the company still lives by today. By 1909, the company was located in eight cities including two in Canada and one in the U.K.
Of course, the labor economy has declined in recent decades as the service economy has grown, but Carhartt stayed relevant as the definition of "working class" evolved. The young, inner city demographic gravitated to the brand, making it "cool," which drove others to Carhartt. Although still a favorite of farmers and construction workers, its loyal base, Carhartt also has "street" popularity. Carhartt remains a family business focusing on customers who believe in a hard work ethic, whether or not they work a 9 to 5 job or they have a blue collar mindset. Hamilton Carhartt made a better product for workers, a product that they weren't being offered by anybody else. Today, Carhartt continues to focus on the working class and those with working class values, offering a product that is known by the equities embedded in the vision of its founder.
Conclusion
Very few brands last over 100 years and even fewer continue to thrive and adapt to so much change that occurs over a century. The founders of these five companies made products and offered a service quite different, one from the other: a carbonated soda beverage, a ready-to-eat cereal, a waterproof hunting boot, a messenger delivery service, and a bib overall. But they had one thing in common — a strong vision for what they were trying to accomplish.  And their vision, the equities that their entrepreneurial spirit created out of whole cloth and that defined their respective enterprises, was strong enough to transcend time, indeed over 100 years, through wars, economic upheavals, changing consumer behaviors, retail evolution and seismic demographic shifts, and remain relevant today. That's what makes these founders so special and deserving of our attention. History matters.