Death Of Bed Bath & Beyond CFO Creates New Crisis For Company – Forbes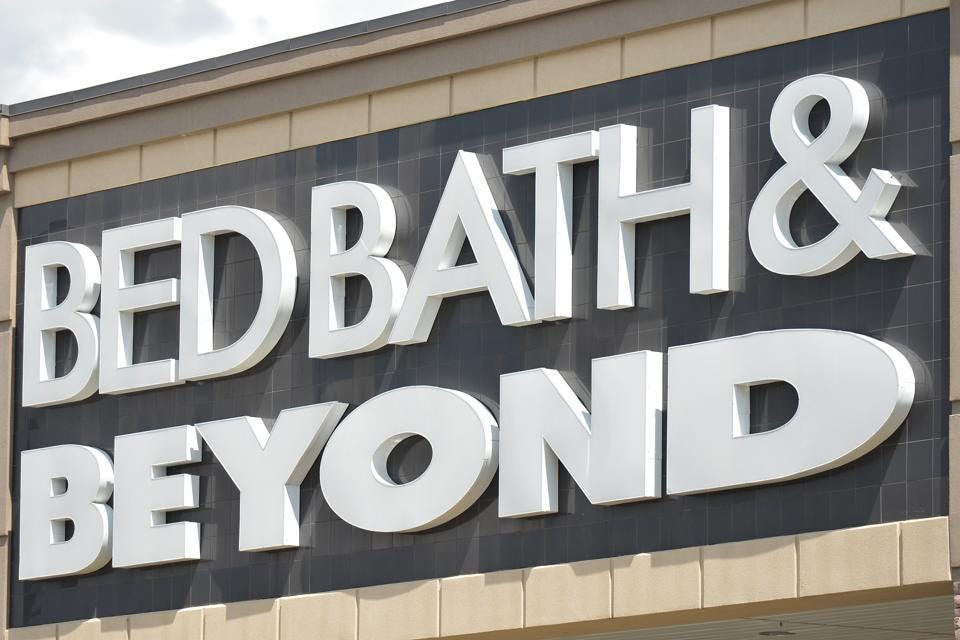 Friday's death of Bed Bath & Beyond CFO Gustavo Arnal, which was confirmed Sunday by the retailer, creates another crisis situation for the company.
"The chief financial officer fell to his death from New York's Tribeca skyscraper known as the 'Jenga' tower on Friday afternoon," Reuters reported.
The death of Arnal, 52, "comes days after the retail chain announced it would close about 150 of its more than 700 namesake stores and lay off about 20% of its 32,000 employees after its stock fell more than 21% last Wednesday, and 65% in the past year, according to The Associated Press," NBC News said.
"The home-goods seller is attempting to trim costs and raise money as it tires to correct recent operating missteps and navigate a challenging economic environment. t hasbeen burning through cash reserves for several quarters, and a shopper exodus has shaken investor and vendor confidence," according to the Wall Street Journal.
Statement By Board Of Directors
"I wish to extend our sincerest condolences to Gustavo's family. Gustavo will be remembered by all he worked with for his leadership, talent and stewardship of our Company. I am proud to have been his colleague, and he will be truly missed by all of us at Bed Bath & Beyond and everyone who had the pleasure of knowing him," Harriet Edelman, the independent chair of the Bed Bath & Beyond Inc. board of directors, said in a statement.
Few Companies Have Succession Plans In Place
The sudden death of top corporate officials, which can create a crisis for companies and organizations, underscores the need for succession plans, policies and procedures and the importance of accounting for such events in crisis management plans.
Arnal's death, coming in the midst of the company's challenges and issues, is another crisis for the organization. In their announcement today, Bed Bath & Beyond made no mention about plans to name his successor or if someone would fill his role on an interim basis.
The retailer did not immediately respond to a request to comment for this article.
'A More Proactive Approach Is Key'
"One company I work with used to plan for execs only for emergencies, without much thought for preparedness of successors," Catherine Rymsha, a visiting lecturer in management at the University of Massachusetts Lowell, said via email.
"While having an emergency plan is helpful, taking a more proactive approach is key in naming successors annually and developing them routinely… as well as the people who could succeed them," she advised.
"Some companies don't even tell successors they are successors, which can drive people out when they don't see career growth. When a high-level executive passes suddenly, it makes the practice even more valuable. To backfill the role, it puts pressure on HR and senior leaders to fill the role quickly," Rymasha said.
But this could turn into a nightmare scenario if they fill the role with an unfit candidate, she noted.
'Expect The Unexpected'
"It's vitally important that organizations understand that there may be circumstances where a key executive may pass unexpectedly—even if they are in good health today. If the coronavirus taught us anything, it is to expect the unexpected. The time to plan for a crisis is before you're in a crisis," Charity Lacey, a communications expert and vice president of Gregory FCA, said via email.
"For organizations that don't have a succession process in place and lose a key team member, engaging your communications team immediately is paramount. Understanding which external stakeholders need to be informed when and how is their core competency.
"This might include internal teams, partners, vendors, customers, investors or other financial stakeholders, analysts and media. Which audiences need to know sooner than others and ensuring that the information is shared in a timely manner while being respectful of the family's wishes should be the first step in developing a program," Lacey concluded.
No Good Reason
"There isn't a good reason to justify the common oversight of not planning for business succession. Some business leaders are too caught up in the challenges of the present. Some have a subconscious aversion to the reality that they won't be around forever or assume succession will work itself out naturally," according to Deloitte.
"Others are aware of the task's true complexity and find it overwhelming. Ultimately, however, the reasons people avoid succession planning aren't as important as the reasons they should embrace it," the company advised.
Preoccupied With Other Issues
"Understandably, many companies have been preoccupied with the major economic disruption in the market and may not have invested the time or leveraged the expertise of their board members to focus on effective CEO succession planning," a post on the Harvard Law School forum on corporate governance observed last month.
"If you're not thinking about this topic now, though, you may be in need of a wake-up call, especially in today's competitive labor market. All signs point to a hiring desert for companies that are unprepared. Some companies are late to the game—but it's not too late. Boards can act now to ensure their plans are ready to meet the challenges of the future," the post said.
This article was originally published on Forbes. You can view the original article here.