MrBeast: How the world's biggest YouTuber made his millions – BBC
SOURCE:

Tom Gerken | BBC

Jimmy Donaldson, the person the online world knows as MrBeast, is the biggest YouTuber on the planet – and with that popularity comes large sums of money.

The 25-year-old has branched out from video-making and now has his own fast-food chain, MrBeast Burger. It hit headlines this week when he sued the company behind the chain, claiming fans thought the food was "revolting".

But it's still YouTube that he is best known for. In November 2022, Forbes estimated he earned $54m (£42.5m) in a year from the platform, combining advertising revenue from videos and sponsorship deals. Since then, he has gained 60 million more subscribers on his main channel, taking his total 172 million.

And he has several other channels with tens of millions of subscribers, including one for philanthropy and one for video games.

It's unclear exactly how much money he actually pockets though. Donaldson has become known for putting the money he makes back into his ultra-expensive videos, some of which take millions to produce. He told a podcast in June that he reinvests "every penny I make".

It is this approach to content that might begin to explain why the American YouTuber attracts such giant audiences – because it allows him to raise the stakes.

Contrast that with 2017, where his biggest videos included him saying "Logan Paul" 100,000 times over the course of 17 hours, and one where he tipped hundreds of dollars to pizza delivery drivers. Each received between 20 and 40 million views.

Outside of his videos, Donaldson is known for his philanthropy, as well as many business ventures. He has a licensed charity which functions as a food bank to feed communities across the US, and he has helped raise tens of millions of dollars to help the environment.

And in addition to MrBeast Burger – part of a venture he is now trying to back out of – he has also launched a range of snacks called Feastables, which he says are consistently selling out in the UK.
.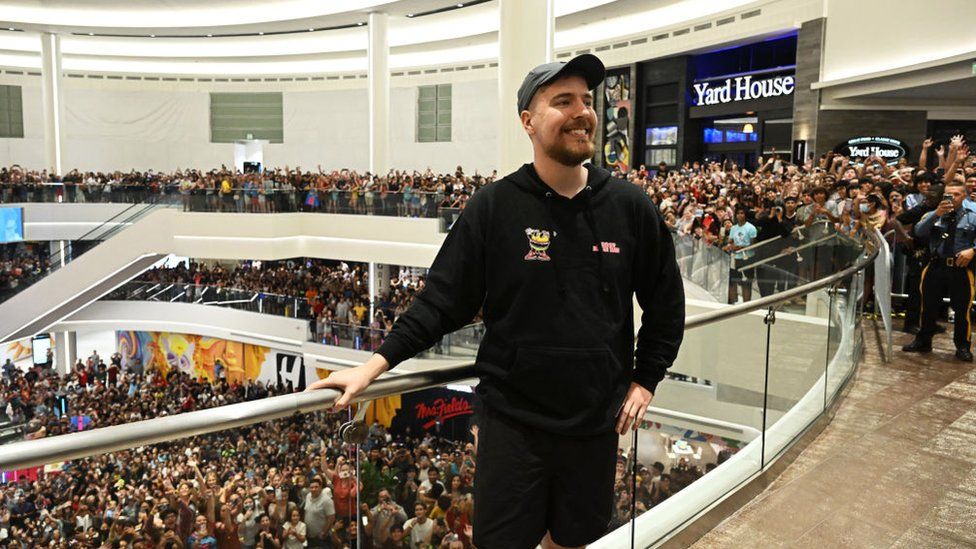 YouTubers can rely on ads to make up a chunk of their income – but sometimes that doesn't cover MrBeast's costs.
That's where sponsorship deals come in. For some content creators, this can make up even more of their income than ads themselves.
Lucy Edwards, a YouTuber with 705,000 subscribers – who became BBC Radio 1's first blind presenter in 2019 – told the BBC that much of her income comes through these brand partnerships.
"I am currently the face of Pantene, a shampoo and hair care brand, globally," she said.
"And then I also have more one-off campaigns quite regularly, possibly around four to five activations a month – we earn a minimal amount from TikTok and YouTube [ads]."
She tends to rely on much shorter content than Donaldson, with her most popular video lasting just two and a half minutes in length, but racking up two million views.
She said YouTubers like MrBeast could potentially earn more thanks to the length of his videos, which are typically between 10 and 20 minutes long.
"If you were a long-form creator, having post-roll, pre-roll, mid-roll ads, and your content is longer than eight minutes, you'll be getting a lot of ad revenue," she said.
"But all the brands also are wanting short-form content, so you've always got to have a balance of the two."
'When he uploads, people click'
Donaldson's videos can be hard to categorise.
They will typically involve a challenge, such as a video surviving hours in Antarctica, or big cash prizes – a $1m game of hide and seek, for example.
But his most recent video, in which a train is driven off its rails and into a giant pit, fails to fit that format.
Steven Bridges, himself a YouTuber with 470,000 subscribers, told the BBC it is Donaldson's creativity that has driven his growth: "I think the interesting thing about MrBeast is his absolute dedication to making what he considers the best video possible.
"When he uploads, people click. They know that when they click on a MrBeast video, there's going to be a heck of a lot of effort gone into making it really entertaining."
Bridges has reinvented himself on YouTube in recent years, moving from content around magic to card counting. His most popular video, showcasing a popular scam used to trick tourists in London, has been viewed 4.6 million times.
"It's really, really tricky to sustain a 10-year career on YouTube," he said.
"But MrBeast is just focusing on the one thing that really matters – putting the audience first and thinking: 'What can I give them that they're really going to love'?"
One of the big reasons behind Donaldson's success on YouTube might simply be his likeable personality – even when he overtook PewDiePie to become the top content creator on the platform, his rival simply congratulated him and said he deserved it.
But while Donaldson is the most-subscribed individual user on YouTube, he is some way off having the biggest single YouTube channel.
T-Series, an Indian music video publishing company, leads the way in that category with more than 246 million subscribers.
But with 172 million and counting, it would be a brave person who bets against Donaldson one day becoming the first YouTuber since PewDiePie to dethrone T-Series at the top.
This article was originally published on BBC. You can view the original article here.