Pepsi Target Market Analysis – Audience Segmentation & Marketing Strategy for 2022 – Start.io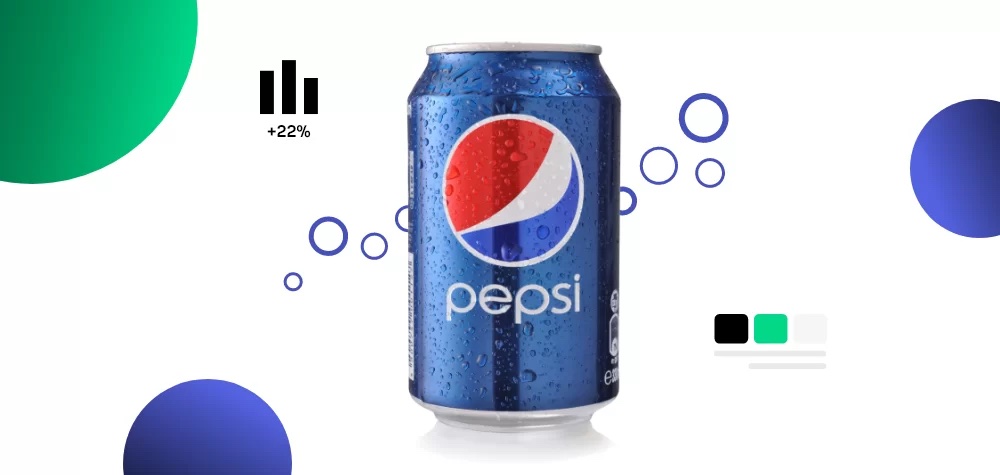 The Cola Wars.
No, it's not the latest blockbuster movie; it's the infamous battle for market share between Pepsi and Coke, which flared in the 1980s and made an iconic mark on the history of culture (and marketing!).
But the war is not over yet. In 2022, the company behind Pepsi, PepsiCo, is one of the top companies in the world in terms of market capitalization, valued at just over $238 billion. In 2021, PepsiCo came in at number 20 on the list of leading corporations by reputation in the US, sharing the space with brands such as Pfizer, Tesla, Costco and Apple.
In a way, this success is not surprising, as the brand has been operational for well over a century. Pepsi Cola was first invented in 1898, and the recipe patented in 1903.
Today, the PepsiCo company markets hundreds of brands and thousands of products in the food and beverages category, including many globally renowned and popular names, such as Lay's, Mountain Dew, Quaker Oats and many more.
In 2021, PepsiCo's net revenue reached $79.47 billion, jumping significantly from $70.37 billion the previous year, and reflecting clear and continued growth over the past decade and a half.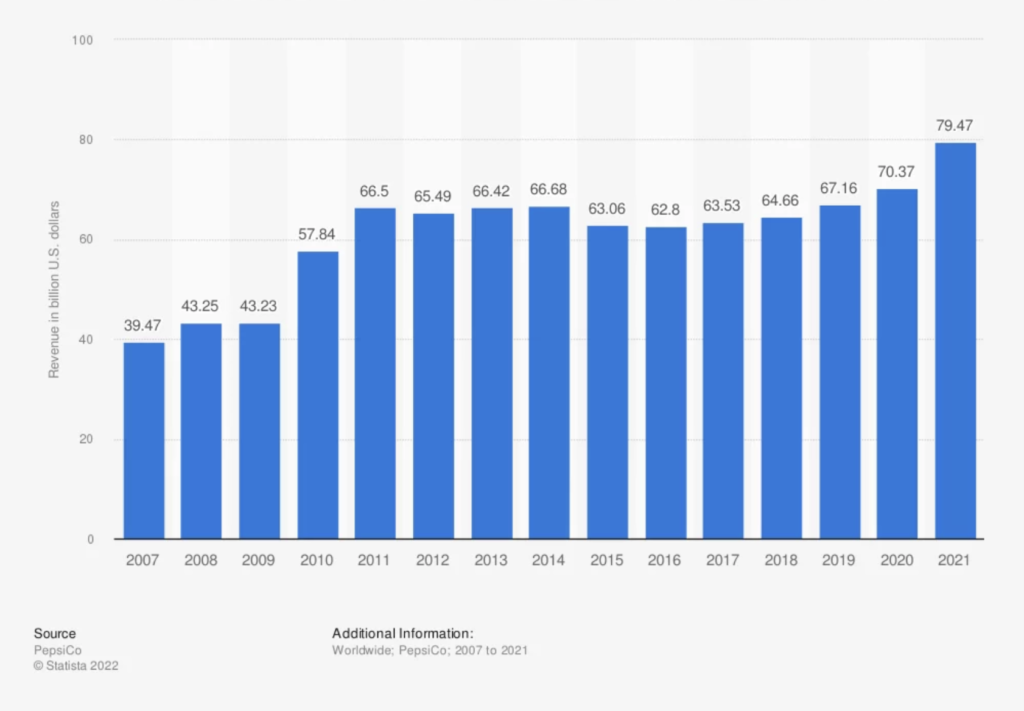 In this article, however, we'll be focusing on PepsiCo's original product, Pepsi Cola, which was the second-most-sold carbonated soft drink in the US in 2021, after Coca-Cola in first place. Let's take a closer look at who is Pepsi's target market and how the caffeinated, carbonated, sugary beverage is faring in the cola war of the 21st century.
Who is Pepsi's target market?
One of the world's most recognizable brand names, PepsiCo held a US market share of over 25% in the carbonated soft drinks segment in 2020. Given this impressive reach, it follows that the Pepsi target audience is quite broad.
The target market Pepsi appeals to is teens, young adults and early middle-age adult consumers in the US and worldwide. During the COVID pandemic, overall soft drink consumption rose, with 84% of survey respondents saying they were consuming the same amount or more soft drinks than before. This correlates broadly with PepsiCo's impressive revenue growth of 13% in 2021.
Pepsi Target Market Segmentation
With a market analysis that considers Pepsi demographic segmentation, as well as its geographic, behavioral and psychographic segmentation data, businesses can get to know the Pepsi target audience.
They can also learn how does Pepsi compete with Coca-Cola, how the Pepsi global marketing strategy helps drive sales and revenue, and much more.
Pepsi Demographic Segmentation
Pepsi demographics covers the age range of 15 to 45, both male and female. The broad age group of Pepsi consumer demographics tends to exclude young children and elderly individuals, who are less likely to enjoy the caffeine-laden beverage. However, it includes singles, new marrieds without children, and couples with younger children and teens.
The brand focuses on similar demographics for its more diet-conscious Pepsi Max target market, who are interested in a tasty sugar-free cola option.
Pepsi Geographic Segmentation
Pepsi is sold in over 200 countries around the world, appealing to consumers in urban and rural settings. In 2022, the company withdrew from the Russian market in response to the invasion of Ukraine.
Pepsi Behavioral Segmentation
Pepsi consumer demographics comprise average to high income earners, including students, employees and professionals. The target audience are regular and loyal users of the product who choose it for its refreshment value and to enjoy the good taste, as well as Pepsi consumption being part of their lifestyle habits.
78% of the audience buys soda at the grocery store, 74% at big box stores, while 62% purchase at convenience stores and 44% at vending machines.
Pepsi Psychographic Segmentation
The Pepsi target audience includes members of the working, middle and upper classes, with easygoing, determined and ambitious personalities. Pepsi continues to market to a solid and growing base of consumers who want sugar free cola options.
In 2021, Pepsi Zero Sugar (known as Pepsi Max outside of the US) grew sales by 22% in the US, representing 0.8% of US market share.
Who are Pepsi's competitors?
Although it is well known that Coca-Cola is Pepsi's top competitor by far, the list of PepsiCo competitors also includes Dr Pepper Snapple and Red Bull. In fact, in 2021, Red Bull was positioned as the second most valuable beverage brand worldwide.
Note that both Coca-Cola and Dr Pepper Snapple produce a range of soft drinks, making Pepsi's position in the market even tougher. Coca-Cola, for example, also markets Sprite, Fanta and a range of energy drinks and fruit drinks. However, cola makes up the majority of market volume for carbonated soft drinks. In 2019, over 50% of market consumption comprised cola flavored beverages, with all other flavors making up the other half.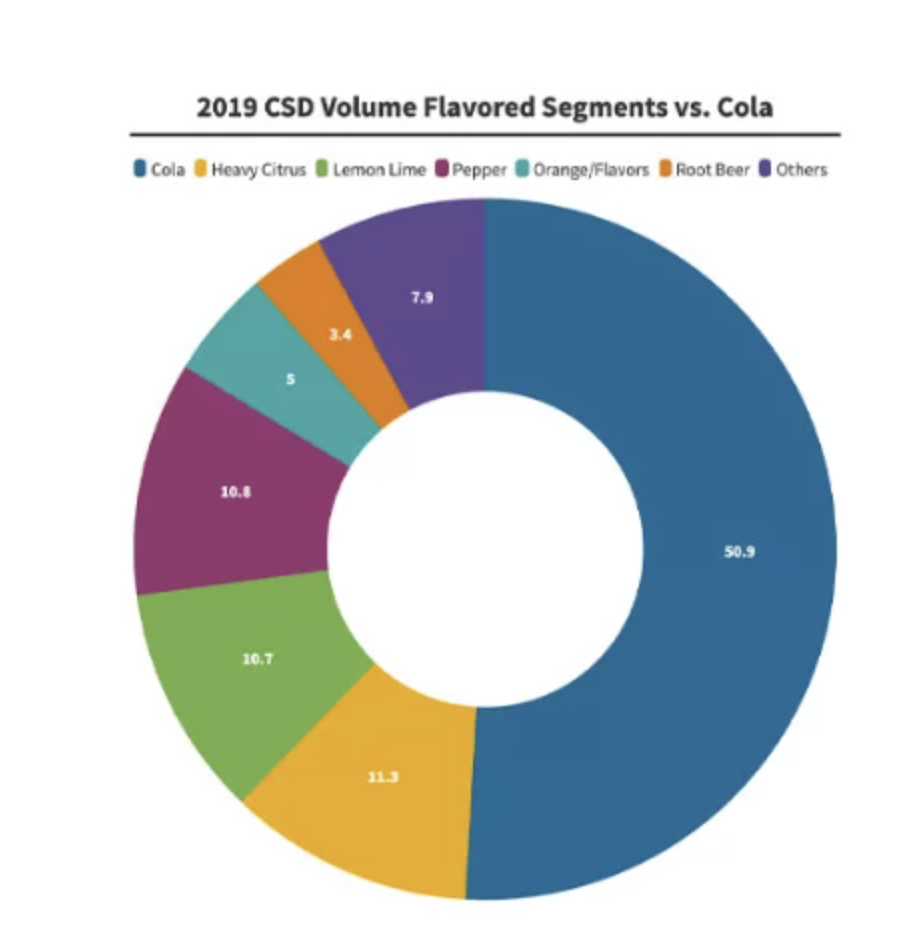 How does Pepsi compete with Coca-Cola
Back in the 1980s, the cola wars began with the brilliant Pepsi marketing campaign, the "Pepsi challenge", a series of blind tests that demonstrated that consumers preferred the taste of Pepsi over Coke.
In response, Coca-Cola released "New Coke", an upgraded formula designed to win back the consumer mindshare lost as a result of Pepsi's successful taste tests. However, New Coke proved to be a flop and for a short time, Pepsi appeared to hold its own against its powerful rival.
It was not to be, however, and the failure of New Coke only bolstered consumer demand for the original Coke, which soared once again in sales and restored Pepsi to its typical number two slot.
As recently as 2021, consumers were showing a significantly higher preference for the taste of Coke compared to Pepsi, which necessarily impacts Pepsi vs Coke sales.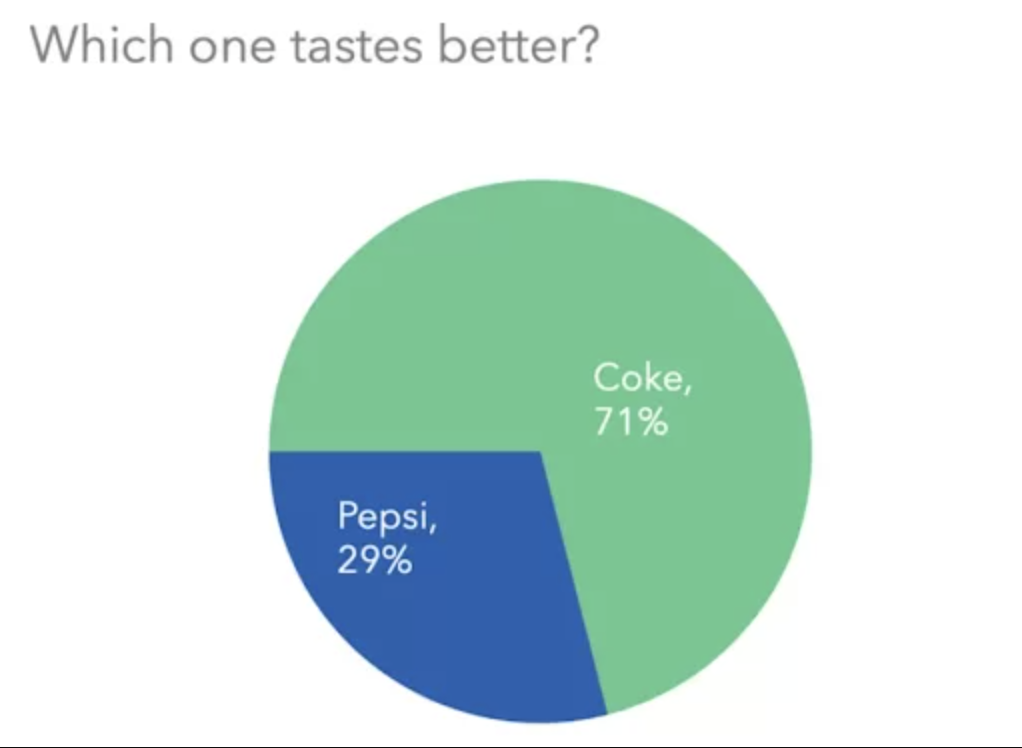 One of the key ways that Pepsi competes with Coca-Cola is product innovation and expansion of its product portfolio. The battle for market share of sugar-free cola is evident in a comparison of products developed by both companies.
At various times, the Coca-Cola company has marketed Diet Coke, Tab, Coke Light and Coke Zero Sugar, alongside Pepsi's extensive and evolving offering that has included Diet Pepsi, Pepsi Max, Pepsi ONE, Pepsi True and Pepsi Life.
PepsiCo continues the Pepsi vs Coke products battle with its Performance with Purpose 2025 business plan, highlighting the company's continued product development, and commitment to sustainability and local communities.
What is Pepsi's Marketing Strategy?
Pepsi has been playing a decades-long marketing game against Coke and other brands, and the PepsiCo positioning strategy involves an enormous budget for marketing and advertising. In 2020, it is estimated that the company spent $143 million in Pepsi advertising just in the US.
These generous budgets mean that the company invests in lavish and celebrity endorsed campaigns to boost Pepsi sales. One Pepsi marketing strategy is the sponsorship of major sporting events worldwide, including the NFL Super Bowl Halftime Show. 
The 2022 trailer showcases the exceptional production quality and superstar-studded nature of Pepsi advertising, featuring names such as Snoop Dogg, Mary J Blige and Eminem:
Bold innovation is a major part of Pepsi positioning strategy. In 2022, the company launched Nitro Pepsi, nitrogen carbonated cola with a smoother, creamier texture and frothy topping. Nitro Pepsi is the first cola beverage infused with nitrogen, based on a technology typically used for coffee and beer products.
The nitro technology has been in development at PepsiCo since 2019, and the company's investment in product and marketing is paying off so far. First quarter 2022 results for PepsiCo showed an impressive 6% volume increase for the beverages segment of the business.
If your target market is Pepsi drinkers, or any other specific consumer segment, visit the Start.io Consumer Insights and Audiences Hub. There you'll find data-based insights for 500+ consumer segments across all categories and geos ready for you to explore, so you can create better mobile campaigns and better targeting strategies for your business.
This article was originally published on Start.io. You can view the original article here.