Ben & Jerry's to stop selling its ice-cream in occupied Palestinian territories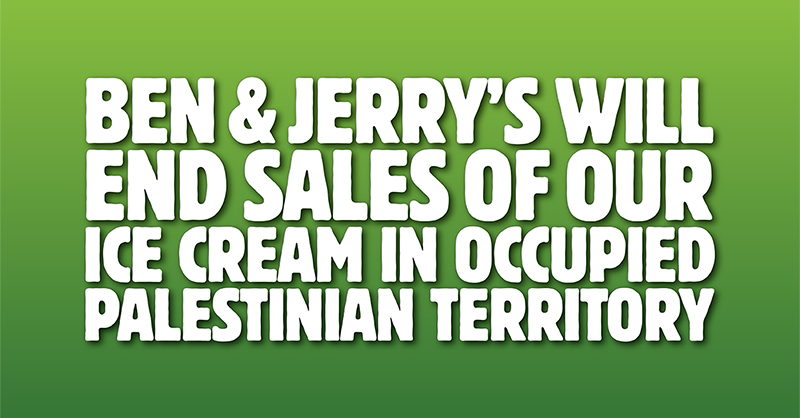 After months of silence on social media, Ben & Jerry's – a company famous for its strong stances on progressive issues – tweeted Monday that it will end sales of its ice cream in "Occupied Palestinian Territory".
In a statement posted to its website, the Vermont-based ice cream giant said it has heard and recognised the "concerns shared with us by our fans and trusted partners" and deemed it "inconsistent with our values" to continue selling products in the Israeli settlements.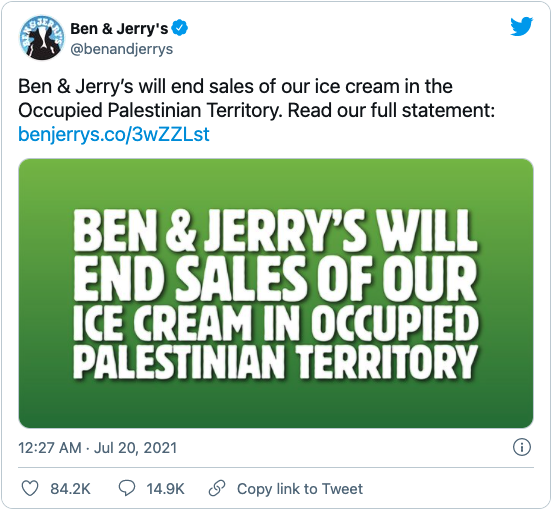 Ben & Jerry's said it informed its longstanding licensee in Israel that it will not renew the license agreement when it expires at the end of 2022.
Although Ben & Jerry's will no longer be sold in Occupied Palestinian Territory, it will continue to be sold in Israel "through a different arrangement". The company said it will update customers on those details in the future.
We believe it is inconsistent with our values for Ben & Jerry's ice cream to be sold in the Occupied Palestinian Territory.
Prime Minister Naftali Bennett's office issued a statement on Tuesday in which it said the Prime Minister had spoken with Alan Jope, chief executive of Ben & Jerry's parent company Unilever, and raised concern about what he called a "clearly anti-Israel step."
It added that the move would have "serious consequences, legal and otherwise, and that [Israel] will act aggressively against all boycott actions directed against its citizens."
The strong reaction reflected concerns in Israel that Ben & Jerry's decision could lead other companies to follow suit.
Indeed, a number of other companies have also been targeted by activists to cut their ties with the controversial settlements. In February of last year, the United Nations human rights office released a list of over 100 businesses which it identified as having ties with occupied Palestinian territories. This list included other major U.S.-based companies like AirBnb.