Groundbreaking Report On MLB Shows Baseball's Incredible Value For Advertisers – Forbes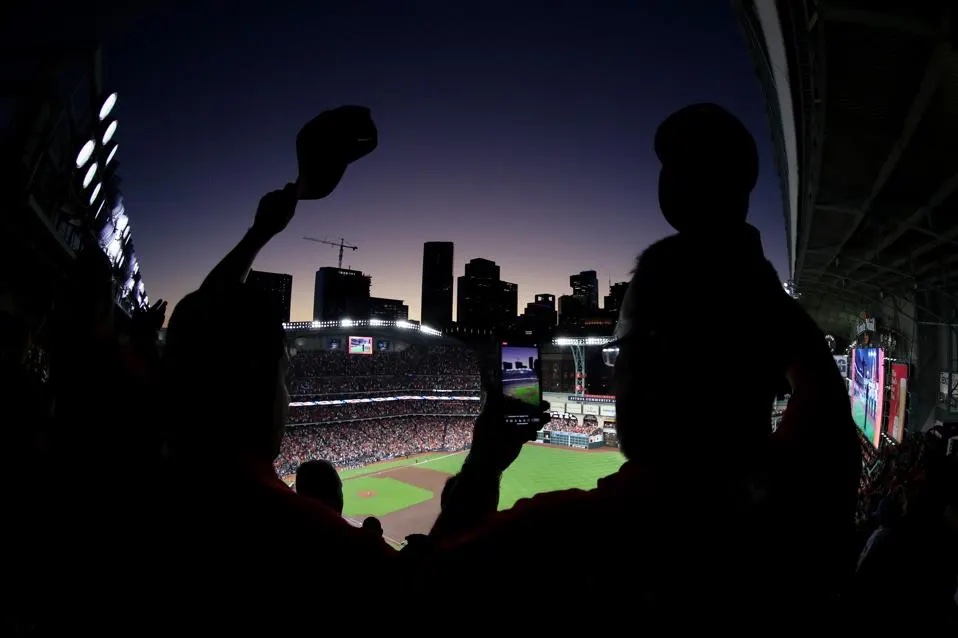 While a false narrative has circulated that Major League Baseball is a "dying sport", a groundbreaking report peels back the data to show that for advertisers, the sports property is an exceptional value.
Released by sports media, marketing and technology company Playfly Sports in partnership with sponsorship measurement company Vision Insights, the MLB Fanscore report comes from surveying nearly 70,000 fans and pulled together over the course of seven months. Not only is the data set large, but according to executives at the two companies, they have been able to examine data sets for a younger group between the ages of 13-18 to show Major League Baseball fans start at a very young age.
While the NFL remains the most-popular league out of the major North American sports leagues, MLB ranks strongly in second. Based upon Vision Insight data, the NFL sees 188.4 million fans, MLB has 171.1 million fans, followed by the NBA at 155.9 million and the NHL at 136.2 million.
Forbes is unable to independently verify the totals as source data is not within the report.
In terms of attendance, the league is currently seeing the largest increase year-over-year with 2023 ranking as the largest increase in paid attendance since the 1998 expansion season.
For television and streaming, a narrative has circulated for years that MLB is dropping back compared to not just the NFL, but NBA and NHL. This has been due to the continued reporting of postseason play at the national level, looking at ratings and not viewership, and looking back over several years when the decline in cable and satellite subscribers was vastly higher than it is today.
When looking at regular season viewership, and how advertisers measure value, MLB sees 30% more by gross rating points (GRPS), than the NBA and NHL combined. In other words, the two 81-game seasons that would match the total of MLB's 162 games sees the NBA and NHL at 35% compared to MLB at 65%. GRPS is used to quantify impressions as a percentage of a target audience, multiplied by the frequency in which that audience sees an ad.
"I think is it's pretty remarkable to some degree and surprising," said Gregg Liebman, the head of research at Home Team Sports, a division of Playfly Sports. Liebman went on to say that while many fans may think the Los Angels Lakers would have a higher regular season average audience per game than the Dodgers, that's not the case. Adding that in the New York designate market area, the Mets have a larger audience per game than the Knicks and New York Rangers combined.
"I think there's an underappreciation of just how strong Major League Baseball is," Liebman said.
The report also dispels another narrative that MLB's audience is comprised of males age 55 and older. The narrative has been driven by looking at traditional television viewership at the national level while not accounting for streaming and the age of those that attend games.
Not entirely unique to MLB, what analysts prior – and the Playfly report confirms with MLB – is that the overwhelming majority of sports fans start when they are young – age 17 and below. This is especially pronounced with Major League Baseball. According to the report, 70% of MLB fans (118.8 million) became fans of their favorite team in the 17 and under age demographic. That's higher than the NFL (66%), NBA (60%), and NHL (48%). A key driver for the larger percentage for MLB is that many fans played baseball at an early age, leading to "forever fans." The report shows that 39% of those that are fans of MLB played in Little League or some other form of baseball or softball in their early youth.
"One of the things we see as valuable to the report centers on youth baseball fans in terms of when they get their fandom," said Chris Todd, senior VP of sales and marketing for Vision Insights. "It is something that doesn't register in most other surveys."
The youth alignment as to when fandom is acquired with MLB, plays out against other supporting data. According to last year's Team Sports trends report by the Sports & Fitness Industry Association (SFIA), baseball and softball combined to be the most participated sport in the United States among children ages 6 to 12 with more than 6.5 million participants. Major League Baseball has been well aware of how youth participation creates fans for life. The first initiative that Rob Manfred started when he became commissioner in 2015 was the youth Play Ball effort to get kids to play any form of baseball or softball. According to the SFIA, prior to the pandemic, casual participation in baseball increased by nearly 90% from the start of the Play Ball initiative.
The report's look at "Forever Fans" – the most avid fans that have been engaged with MLB from an early age – "were found to be 2.5 times more likely to watch every single game their team plays. Most importantly, Forever Fans are three times more likely to connect emotionally with their team's sponsors, visit those advertisers' apps or websites, and make a purchase from a brand aligned with their favorite team." For MLB, the concentration of these "Forever Fans" comprise a larger percentage than the fan base for the other big major sports in North America.
The glass half full and half empty aspect of age demographics and MLB centers on the 20-30 age demo. While not in the Playfly report, it has been largely been seen through other data from the likes of FOX Sports and others, that while fandom starts early, in early adult years fans may move away from baseball. What happens is a reconnection to the sport when these adults start families and begin involving their children in baseball and taking them to MLB games. For advertisers looking to target demographics with the largest disposable income, it is this age demo where family life comes into play that becomes more valuable.
The report also highlights how favorable fans are of the rule changes implemented this season (pitch clock, ban on shifts, larger bases, limited throws to first with a runner on, etc.) with 59% of avid baseball fans and 37% of casual fans supporting them. There is also significant support for the league's balanced schedule which sees each of the 30 teams play each other in one or more series with 66% of avid fans and 52% of casual fans feeling the schedule is more enjoyable.
The Playfly Sports report, working with Vision Insights, is a valuable view into the under told story of Major League Baseball as valuable advertising sports property. The league's expansive inventory of games which blankets summer programming, along with the continued data that shows how dominant MLB is on television and streaming should not only dissolve many of the false narratives that have lingered but draw Madison Avenue to the sport for advertising budgets.
This article was originally published on Forbes. You can view the original article here.