Programmatic Ad Market Proves Resilient, Analysts See Demand Shifting To CTV From Linear TV – Media Daily News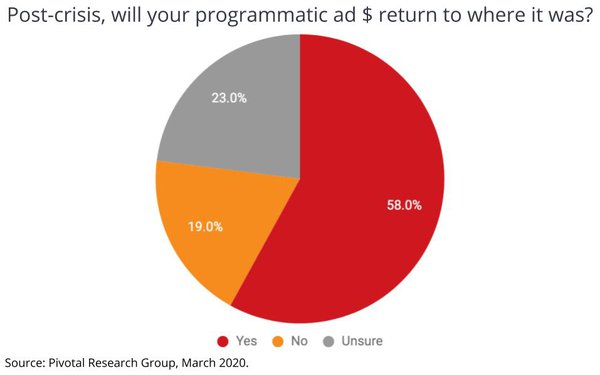 Heading into one of the worst periods in recent advertising history, leading programmatic ad-buying platform The Trade Desk is trading at an all-time high. No, not its ad trades, but the price of the company's publicly traded shares. The reason, say some top Wall Street analysts, is a bull indication for the programmatic advertising marketplace despite bearish ad industry indicators.
"The Trade Desk is trading at all-time highs during COVID-19, despite being 100% ad-driven," Needham & Co. analyst Laura Martin writes in a report sent to investors this morning.
Despite reporting a "sharp deceleration in ad spending" on The Trade Desk's platform in the second half of March, a double-digit decline in ad spending for the final week of March, which "worsened" in early April, Martin cited several reasons for being bullish on The Trade Desk and the programmatic advertisers and media buyers it serves.
For one thing, she says, the "spend downdraft had stabilized" by mid-April, which improved even further in the final days of April, "driven by improvement in CTV spending."
More broadly, she says, factors in The Trade Desk's long-term favor include the fact that many of its DSP competitors "will not survive COVID-19," indicating its market share could actually grow coming out of the pandemic.
She also notes that much of its business is growing directly from advertisers vs. agencies, and the long-term growth of programmatic CTV advertising looks strong.
"[CTV] is the new black," she writes.
Pivotal Research Group's Michael Levine expresses a similar sentiment in a report also sent to investors this morning, noting, "Based on our work around the TV upfronts, we are incrementally more bullish around CTV being a real breakthrough next year.
"To the extent there is a meaningful pull-back by marketers in the TV upfront participation in favor of more activity in the scatter/spot market, we think programmatic TV will be poised to deliver on the value proposition.
"We suspect the ability to deliver higher CPMs to media companies via better targeting will make TTD an even more welcomed partner to these companies who are already under pressure."
A poll of ad execs and media buyers conducted by Pivotal in March indicates 58% expect their programmatic ad spending to return to pre-Pandemic levels once the crisis is resolved.