Amazon's New Delivery Drone Will Start Shipping Packages 'In A Matter Of Months' – Forbes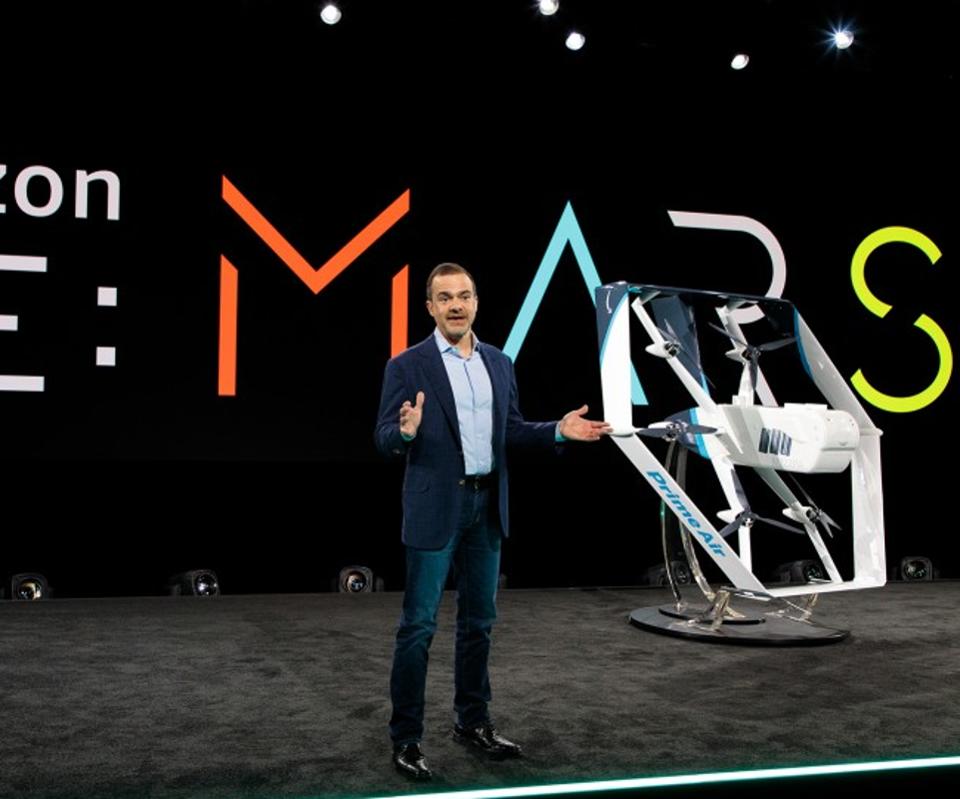 Amazon debuted a new, fully electric version of its package delivery drone that it says will start shipping packages to consumers "in a matter of months."
Amazon executive Jeff Wilke announced at the company's re:MARS conference in Las Vegas on Wednesday that the drones will be able to fly up to 15 miles and deliver packages under five pounds to customers in less than 30 minutes. While that may sound like a light load, Wilke said that between 75 and 90% of Amazon deliveries could technically be handled by the drone.
The drones are part of Amazon's continued push to reduce package delivery times for its customers as it rolls out one-day shipping to its Prime members in North America, and its hybrid design means it can take off and land vertically, but also fly horizontally like a plane during the course of delivery. Here's a closer look:
Since Amazon first announced its plan for a Prime Air delivery service back in 2013, the company says that it has gone through more than two drone dozen designs, none of which was as quiet or able to avoid other aircraft, wires, or people on the ground as well as this one.
"A safe, truly autonomous drone was the only option," Wilke said.
Earlier this spring, Google's parent company Alphabet beat Amazon to launching one of the first drone delivery services in Australia, and also became the first company to receive Federal Aviation Administration approval to make commercial deliveries in the United States. Amazon didn't say whether the test deliveries it promised would happen in the U.S. or elsewhere. Previously, Amazon has tested its drone in the United Kingdom.
The FAA tells Forbes that it has given Amazon a one year approval, eligible for renewal, for research and testing, though not for commercial deliveries.
"Today, the FAA issued a Special Airworthiness Certificate to Amazon Prime Air allowing the company to operate its MK27 unmanned aircraft for research and development and crew training in authorized flight areas," the FAA said.
Beyond its flashy drone announcement, Amazon also debuted new warehouse robots and ways for Alexa to predict how users want to spend their Saturday nights.
Amazon's Brad Porter showed off the "Pegasus Drive Sortation" device, which can take packages from where human workers place them and autonomously sort them, zipping off to a specific area where they'll be sent off to a given destination.
"It reduces miss-sorts by over 50%," Porter said.
Amazon also gave a sneak-peek at Alexa Conversations, a deep learning-based way for developers to create voice skills with fewer lines of code and less training data. The company wants Alexa to be able to predict what users want and automatically move across different skills created by different developers. For example, Amazon's Rohit Prasad showed off a demo in which a user asked Alexa to buy movie tickets. After purchasing the tickets through the Atom skill, Alexa then automatically prompted the user to make a restaurant reservation (through OpenTable) and order a ride (through Uber).
An interaction that would have otherwise taken 40 interactions only took 13, Prasad said.
Amazon is opening up Conversations for a developer preview now.