Dettol's TikTok Hand-Wash Challenge Gets Nearly 9 Billion Views In Four Days – AdAge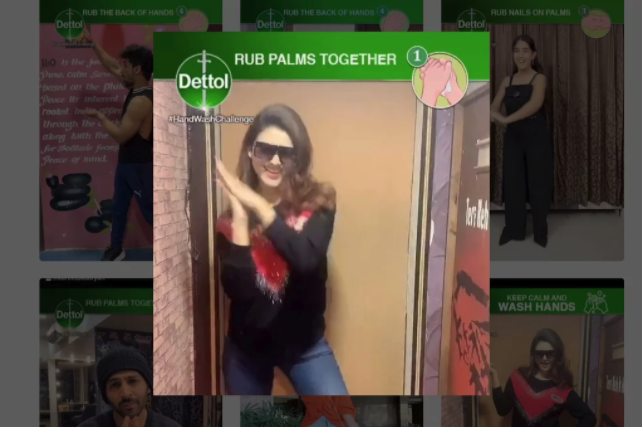 As the coronavirus pandemic continues to wreak havoc around the world, health agencies, governments and even brands are relaying messages of social distancing and reminders to wash hands.
Dettol, which sells disinfectant sprays and wipes, and hand sanitizers, has launched a TikTok challenge aimed at getting more people in India to wash their hands, where the virus has 153 confirmed cases, but where testing has remained low.
The challenge has quickly become a success, garnering 8.7 billion views in just four days.
The Reckitt Benckiser brand created a unique song that pairs with the hashtag #HandWashChallenge. The hashtag filter has a branded Dettol strip across the top with the hashtag and names the steps to wash hands. The user can dance out the steps to the challenge and share it with their friends.
"Join hands with Dettol and take the #HandWashChallenge to spread awareness on how to wash hands!" reads the challenge on the platform.
So far, the brand has posted the videos of 17 influencers to its Indian TikTok account @dettol_india, where it has 18,400 followers.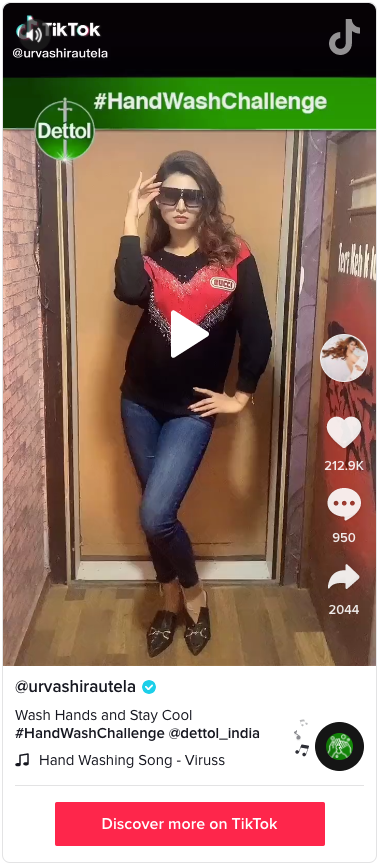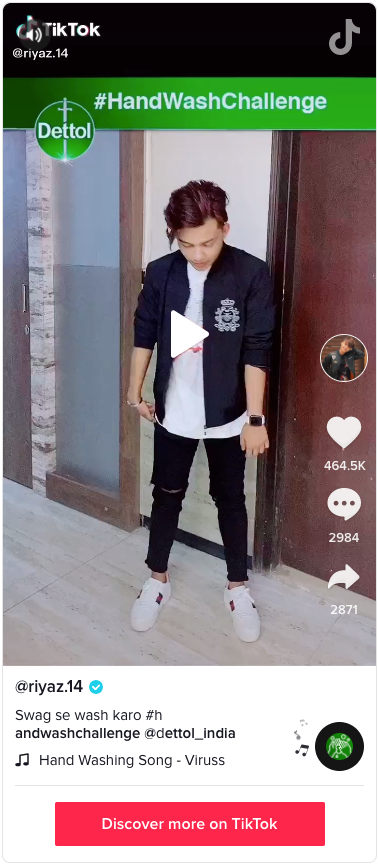 Generating nearly 8.7 billion views for one challenge is high for the platform. That far surpasses the 1.7 billion views e.l.f. Cosmetics saw in one week when it was one of the first brand's to create its own song for a challenge on TikTok last October. Other branded challenges that have also done well on the platform have brought in millions, or hundreds of millions, of views in the same time period.
TikTok has considerably more users in India then in the U.S. The platform has roughly 81 million monthly active users in India, compared to 26.5 million monthly active users in the U.S.
Although Dettol's products have not yet been scientifically proven as effective against the virus, Dettol is one brand that is not suffering as much as the overall market. People have been stockpiling cleaning products, along with groceries and accessories like toilet paper. Online, the company says its products have proven effective for disinfecting strains of the flu from the same family as coronavirus, and expects them to be as successful against COVID-19.
Dettol did not respond to a request for comment before publication.
There are a number of other hand-washing challenges on the platform, including TikTok's own pro-bono partnership with the World Health Organization that challenges people to share videos of themselves washing their hands for 40 seconds with the hashtag #safehands. The hashtag has generated 816.2 million views.
UPDATE: Dettol's #HandWashChallenge on TikTok has surpassed 11 billion views in five days.