Elon Musk's Net Worth Falls $770 Million After Tesla's Botched Cybertruck Debut – Forbes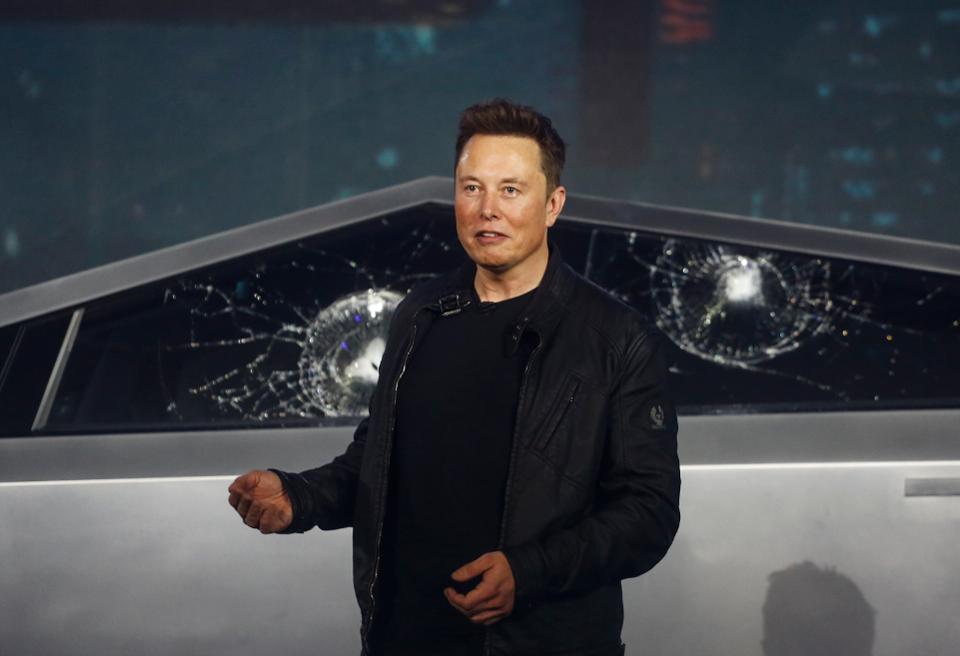 Time will tell if drivers buy into Elon Musk's futuristic Cybertruck, but Wall Street is so far skeptical. Tesla stock has skidded since the electric vehicle maker unveiled the long-awaited electric pickup truck in a live demonstration gone awry last night—wiping three quarters of a billion dollars off founder and CEO Elon Musk's fortune.
"You want a truck that's really tough, not fake tough," Musk said of the Blade Runner-esque, angular car. "You want a truck you can take a sledgehammer to, a truck that won't scratch, doesn't dent."
To prove that he had created such an automobile, Musk directed a Tesla designer to take a sledgehammer to the Cybertruck's door. No damage. But when he had the designer throw a metal ball at its "armor-glass" windows, things went off the rails. "Oh my f***ing God," said a surprised Musk, as the window shattered.
A second ball, thrown with less force, cracked the second window as well. "For a weird little reason, it broke now and I don't know why," Musk told the crowd at the unveiling in Hawthorne, California. "We'll fix it in post."
The demonstration did little to inspire confidence in the Cybertruck, especially given its radical design. Tesla's share price has dropped by 6% since the market close yesterday, pushing Musk's net worth down by $768 million in a single day, to $23.6 billion. The 48-year-old founder is the 41st-richest person in the world.
Wall Street analysts are highly divided on Tesla. Among a group of 35 tracked by Bloomberg, 12 have issued buy ratings for the stock, 9 have issued holds and 16 have issued sells. Across the board, analysts acknowledged the Cybertruck's design is potentially polarizing.
"We believe there are important unanswered questions to be able to assess potential buyer interest in the model, and whether or not this could attract commercial fleets or remain a consumer niche vehicle," wrote Deutsche Bank analyst Emmanuel Rosner in a research note, maintaining a hold rating. Rosner questioned whether consumers would be turned off by the Cybertruck's design and whether commercial buyers would trust its durability, noting "the shattering of the truck's unbreakable glass windows during the live demonstration was not a good start."
Baird analyst Ben Kallo is more bullish, arguing that the Cybertruck's advanced features will win over customers despite its unusual design. Kallo also dismissed the demonstration accident. "While this was unfortunate and provided some good meme fodder, ultimately we do not think the broken window is particularly significant and should not overshadow the rest of the unveiling," he wrote. "Ultimately we view this as a funny footnote."
Musk, whose pride—and pocketbook—took a hit, might not be laughing just yet.