Coca-Cola adds 'Enjoy' to packaging in summer push – AdAge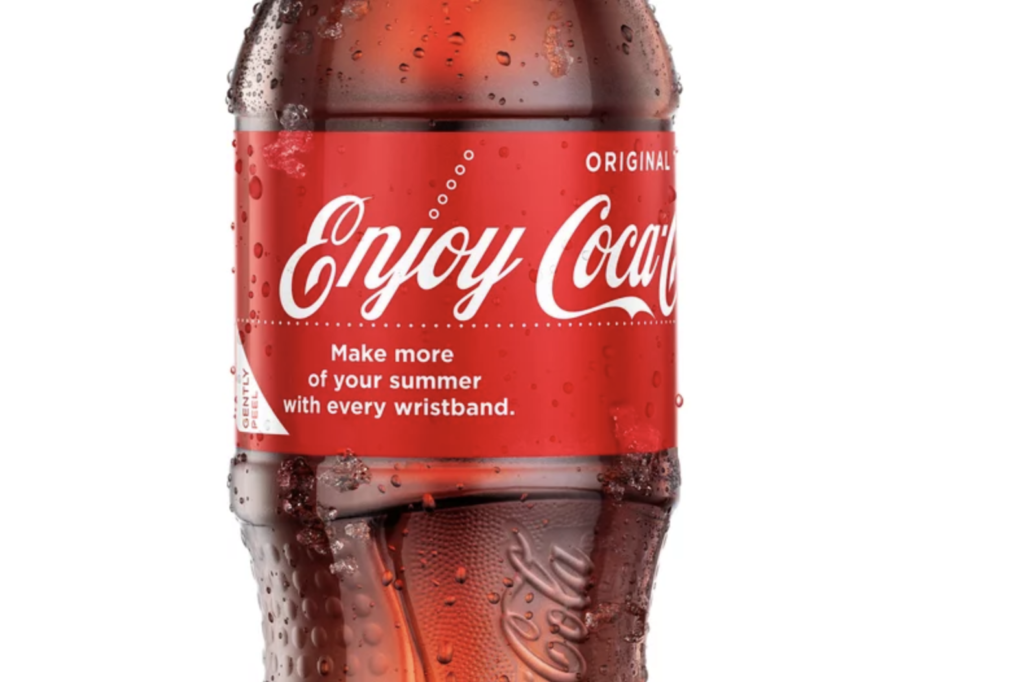 By Jessica Wohl
Coca-Cola is so eager to get people to enjoy its soft drinks this summer that it is adding the word "enjoy" to packaging and making some labels that morph into seasonally themed wristbands.
The "Enjoy Coca-Cola" push also includes giveaways and promotes the U.S. Women's National Team as it heads to the 2019 FIFA Women's World Cup.
The soft-drink leader will add "Enjoy" in Spencerian script on packs of Coca-Cola and Coca-Cola Zero Sugar, marking the first time a word other than the brand has appeared in the iconic lettering in the United States.
"Coke packaging is one of our biggest billboards," says Oana Vlad, brand director, Coca-Cola Trademark.
After spending five summers showcasing names on bottles in the "Share a Coke" campaign in the U.S., the packaging is instead focusing on "Enjoy," with "Share a Coke" set to return in the second half of 2019, says Vlad. Details on the return of "Share a Coke" were scarce. Over the past few years, Coke has added more first names, last names and other wording to keep that campaign's momentum going in the U.S.
This summer, labels on 20-ounce bottles of Coke and Coke Zero Sugar will have peel-away wristbands with six different summer-themed designs, such as popsicles or hot dogs. One design shows the words "I Believe" and the U.S. Women's National Team's crest. A small "sip and scan" icon on all brand packaging allows consumers to scan an image for access to more than 150,000 prizes.
The summertime packs are set to hit shelves on May 13 and the "Enjoy Coca-Cola" campaign kicks off on May 20. The push includes three TV spots centered on summer love, grilling outdoors and the Women's World Cup, along with digital, social, public relations and search. Coca-Cola worked with Wieden & Kennedy Portland on creative and UM on media. Work on the "enjoy" lettering and bottle wristbands was done internally, says Vlad.
While it's the first time the brand has added a word in Spencerian script in the U.S. (the lettering for "Share a Coke" is slightly different), "love" appeared in the script on Coca-Cola cans in Australia in 2017 as a sign of support for same-sex marriage.
Coca-Cola's promotion of the U.S Women's National Team includes putting the team crest on more than 14 types of packaging. Consumers can get one of 5,000 bracelets made from red nets used during this year's SheBelieves Cup by scanning the "I Believe" wristband from the 20-oz. bottles, attending one of the team's sendoff games or visiting a local Kroger. Some of the bracelets are being given to a girls' soccer team by stars Alex Morgan, Kelley O'Hara and Crystal Dunn.
"We have never done a partnership with the U.S. Women's National Team to this scale," says Vlad.
Coca-Cola has been a FIFA partner since 1976, has supported the FIFA Women's World Cup since it began in 1991, and has been a partner of the U.S. Women's National Team for four years. Coca-Cola's relationship with Morgan dates back to 2011.
Last week, Coca-Cola said its first-quarter revenue rose 5 percent, with an increase of 1 percent in North America.