Nike's 'Dream Crazy' Takes Cannes Outdoor Grand Prix. Will It Kick Off a Winning Streak? – Adweek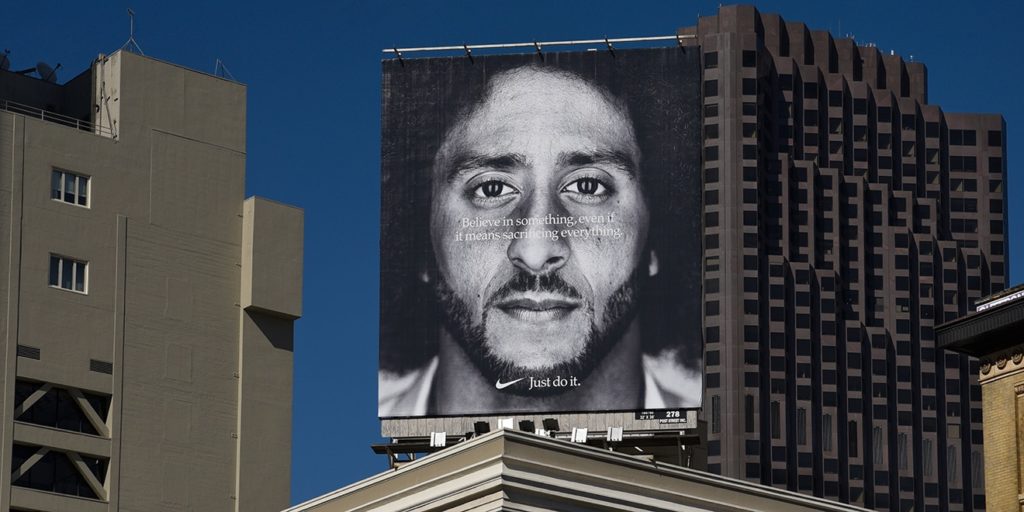 It was widely considered a front-runner heading into the Cannes Lions, and Nike's "Dream Crazy" campaign featuring Colin Kaepernick did not take long to prove those predictions right.
In the first batch of honors announced at Cannes, Nike and Wieden + Kennedy won the Outdoor Grand Prix.
Calling the ad "one of the most iconic images in advertising for the last several years," Outdoor jury president John Patroulis said the Nike work set a high bar in deliberations that no other piece proved capable of reaching or surpassing.
"It was hard to talk about anything else having that kind of impact in an outdoor piece," he said.
"This is a timeless piece," said juror Keka Morelle, executive creative director at Brazilian agency AlmapBBDO. "In 2019, in this jury, we had a chance to award as a Grand Prix the piece that even my mom knows about."
Given that the Outdoor Grand Prix was one of the first awards announced over the week-long Cannes Lions festival, it's likely that "Dream Crazy" is on the first step of what could be a winning streak. For Wieden + Kennedy, the Grand Prix illustrates the success Nike has found in creating ads that also serve as platforms for the views and passions of the many athletes it endorses.
This campaign features some of the most inspirational athletes of today, who have all chased their dreams no matter the obstacle or outcome, and showcases the power of sport to help move the world forward.
"Nike has a long track record of supporting and amplifying the voice of athletes everywhere," said Ryan O'Rourke, creative director at Wieden + Kennedy on the Nike account. "This campaign features some of the most inspirational athletes of today, who have all chased their dreams no matter the obstacle or outcome, and showcases the power of sport to help move the world forward."
Five Adidas ads from TBWA\Chiat\Day New York featuring tennis legend Billie Jean King were honored with gold Lions in Outdoor, including the "Billie Jean King Your Shoes" project that encouraged fans to spray paint any pair of shoes to look like the blue-and-white pair King wore when she won the "Battle of the Sexes" against Bobby Riggs in 1973: