BDO IS AGAIN A BUSINESS SUPERBRAND! – BDO Slovakia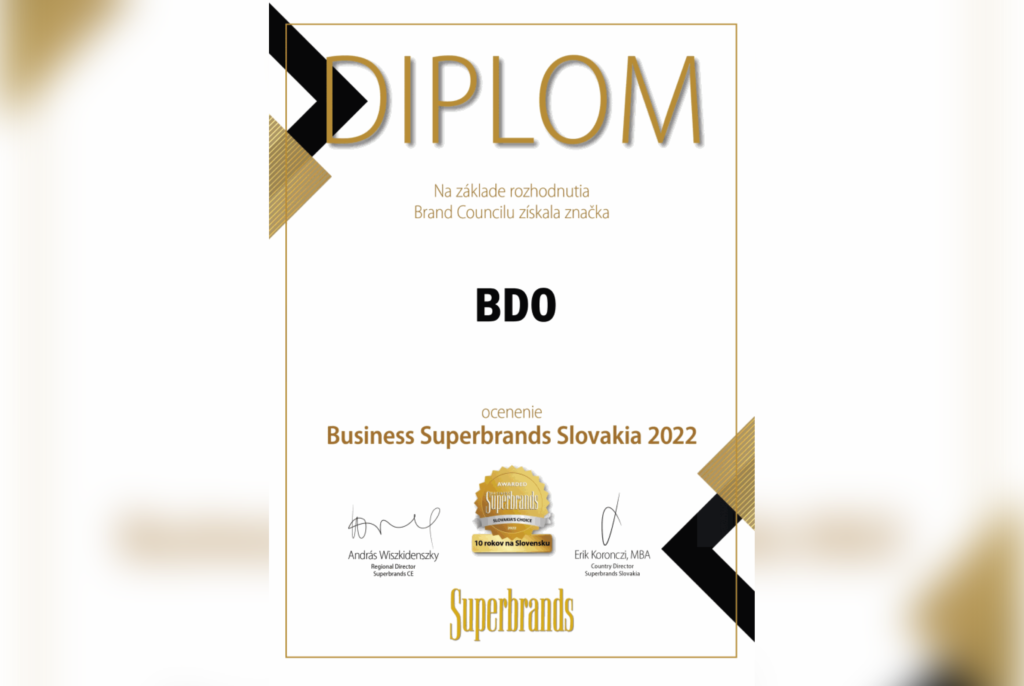 This year, too, the public and the professional committee agreed that BDO is clearly one of the elite brands in Slovakia. For the second year in a row, we have been awarded the Business Superbrands premium badge, which is awarded to the holder of this award for its special position and excellent position in the local market.
The Business Superbrands award is issued by an independent global authority in the field of evaluation and evaluation of trademarks, the quality of which is annually confirmed by the general public, as well as an expert commission composed of renowned experts in the field of business, marketing and communication.
"The award gives us feedback that our efforts to help people achieve their goals through open communication are perceived by the public. We are very pleased that our approach has been reflected in their support and renewed trust, " said Peter Gunda, the company's managing partner.
The Superbrands seal is awarded on the basis of a several round rigorous selection process, which takes into account fundamentals such as public trust, innovation, market leadership, brand recognizability, quality or brand building, and exceptional customer reputation.
"At BDO, we always try to provide our clients with something more than they expect. It is not just about communicating externally. Who we are is created inside. The BDO brand name is formed by the name of each employee, colleague and member of our BDO family. We do not want to be a brand that focuses on the good presentation of its values through the setting of branding. On the contrary, we try to present our values instilled in every single activity and approach of all its members," says Peter Gunda.
.
About Superbrands
Superbrands is the most recognized independent global authority in the field of brand evaluation. Launched almost 30 years ago in the UK, the program has become a globally recognized award given to the best brands in almost 90 countries on five continents. Companies cannot submit themselves to the Superbrands rating. They are nominated by the organizers in a multi-round selection process, in which the general public is also involved through a consumer survey conducted by GfK. The final decision is made by an expert committee of the Brand Council, composed of renowned experts in the field of business, marketing and communication. The project aims to highlight inspiring brands operating on the local market and to present credible quality brands to consumers and the professional public.
You can read more on the project at: https://www.superbrands.com/
This article was originally published on BDO Slovakia. You can view the original article here.